Written by Claire Binkowski
Every equestrian has that one special horse, the one that helped make their dreams come true and owns a piece of their heart. For Marcie McClenon, that horse is What Matters Most.
Marcie vividly remembers the first time she saw What Matters Most, a 2011 AQHA stallion sired by The Krymsun Kruzer out of Nothin Like A Blue, by Skys Blue Boy. "Katy Jo was showing him in the Congress Masters Hunter Under Saddle as a two-year-old and he just took my breath away. I fell in love with him right then and there."
Owned at the time by Wayne and Judy Davis, Katy Jo and What Matters Most tied to win the Masters but lost the tiebreaker to be the Reserve Congress Champions. Shortly after the Congress, Marcie heard rumblings that the young stallion might be for sale and immediately contacted the Davis' about purchasing him. "I had just undergone a hip replacement and was not supposed to be riding," shares Marcie. "But when I went to look at him, I may have hopped on for a short ride. He was a perfect gentleman and took such good care of me. That sealed deal."
After purchasing What Matters Most, who is fondly known as "Wally"—a name he received in honor of Wally Battle, who along with Mark Llewellyn, bred and showed What Matters Most to win the Congress Championship in Open Hunter Yearling Longe Line and the Reserve Championship in Non-Pro Hunter Yearling Longe Line—Marcie sent him to continue his show career with Nancy Sue Ryan. It was while under the guidance of Nancy Sue that Wally helped make Marcie's life-long dream of competing at the AQHA World Championship Show come true.
"Nancy Sue and I were driving to the World Show and out of nowhere I just started sobbing," shared Marcie. "She asked me why on earth I was crying, and I told her it was because I was just so happy to finally be going to the World Show and it was even better that my first time showing there was going to be with Wally. I'm certain she thought I was crazy, but fortunately she was a great sport about all of it."
The 2015 AQHA Select World Championship Show turned out be one that Marcie will never forget. Together she and Wally won both the World Championship and L2 Championship in Performance Halter Stallions and were Top Fifteen in the Hunter Under Saddle. "Just to be competing at the World Show was a dream come true," said Marcie. "Winning the World Championship with Wally was surreal. To win the Performance Halter and place in the Top Fifteen in the Hunter Under Saddle speaks volumes about this horse. He exemplifies the meaning of form to function."
Wally's success continued at the AQHA World Championship Show a few months later, where he was the Bronze Champion in Open Performance Halter Stallions, winning the L2 division of the class, and placed Top Ten in the L2 Junior Hunter Under Saddle. That year he was named the AQHA High Point Hunter Under Saddle Stallion.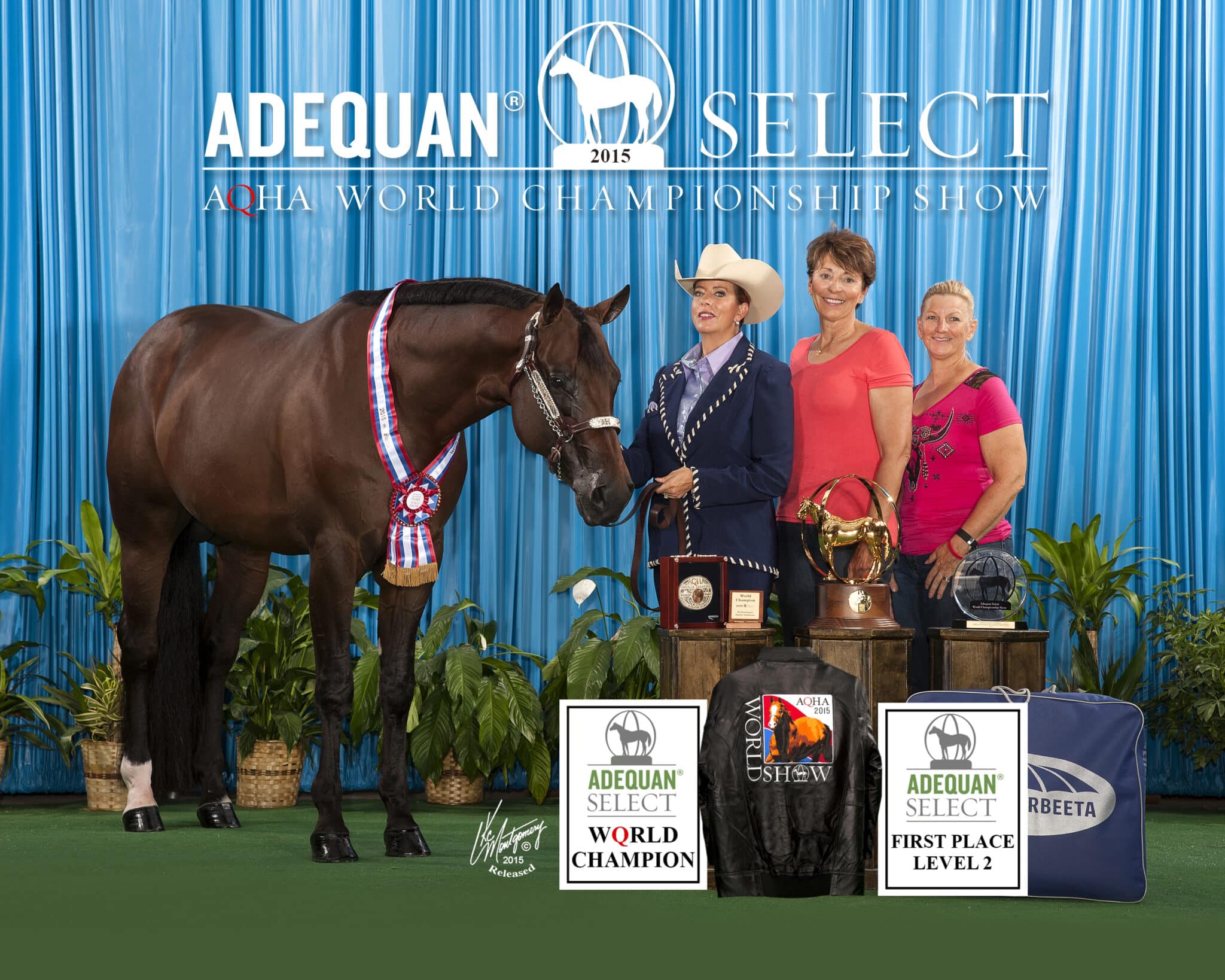 2015 AQHA Select World Champion

2016 AQHA Select Reserve World Champion

Although it is not very common for a Hunter Under Saddle horse to compete in the Trail, Wally is not just any horse. He started off his five-year-old year showing in the Trail with Jason Gilliam. From there he went to Ryan Painter to compete in the hunter classes with a goal of vying for the Superhorse title at the 2016 AQHA World Championship Show. That year Wally earned 23.5 points in Trail and 29.5 points in the hunter classes and won four all-around titles, as well as NSBA World Championships in Progressive Working Hunter and Green Hunter Hack. In the fall he returned to the Select World Show where he won the Reserve World Championship in Performance Halter Stallions. Wally concluded his show career at the Open World Show in November, winning the L2 Junior Working Hunter, placing fourth in the Junior Working Hunter and Performance Halter Stallions, ninth in the Progressive Working Hunter, and fourteenth in both the Junior Hunter Hack and Junior Hunter Under Saddle to place third in the Superhorse standings.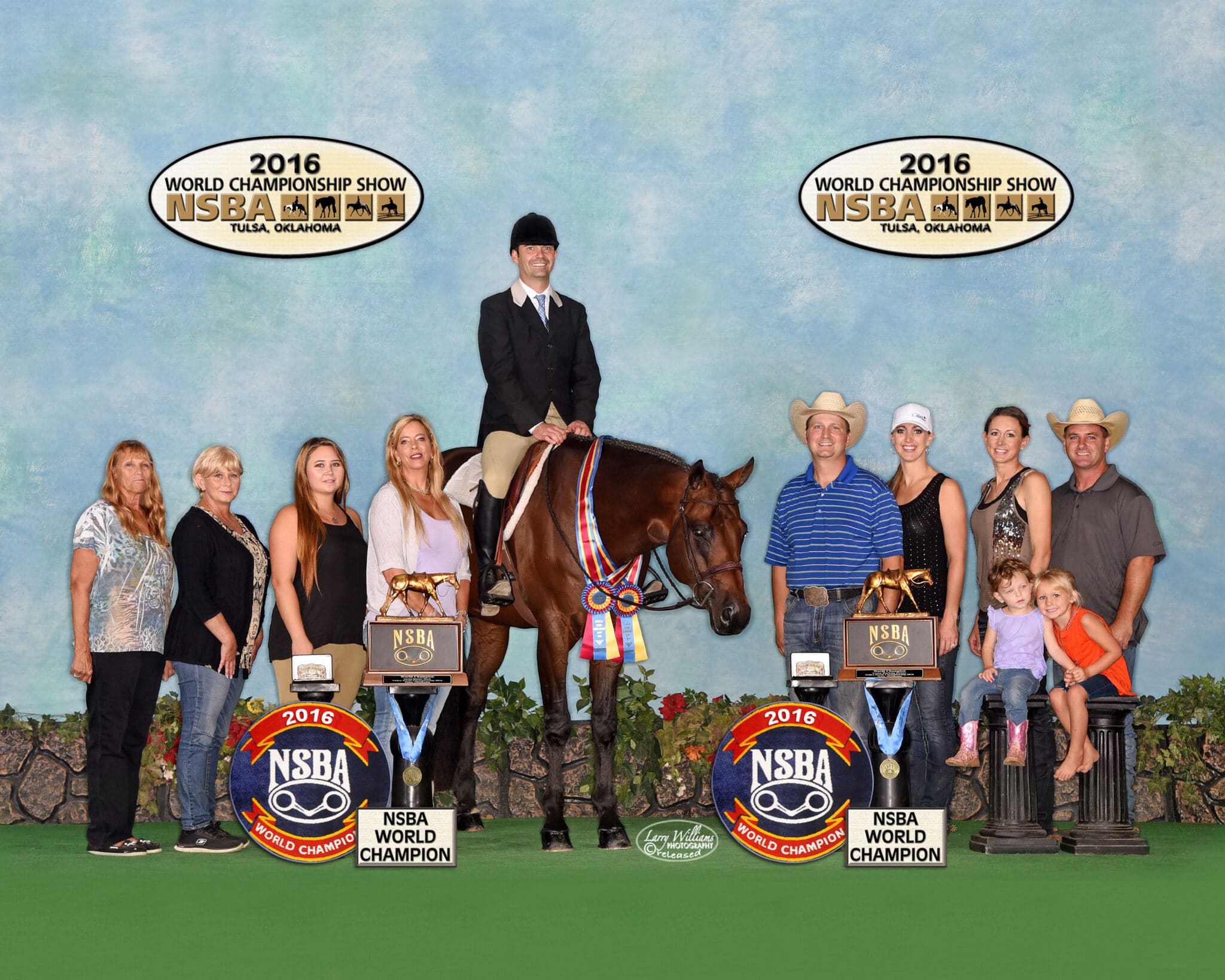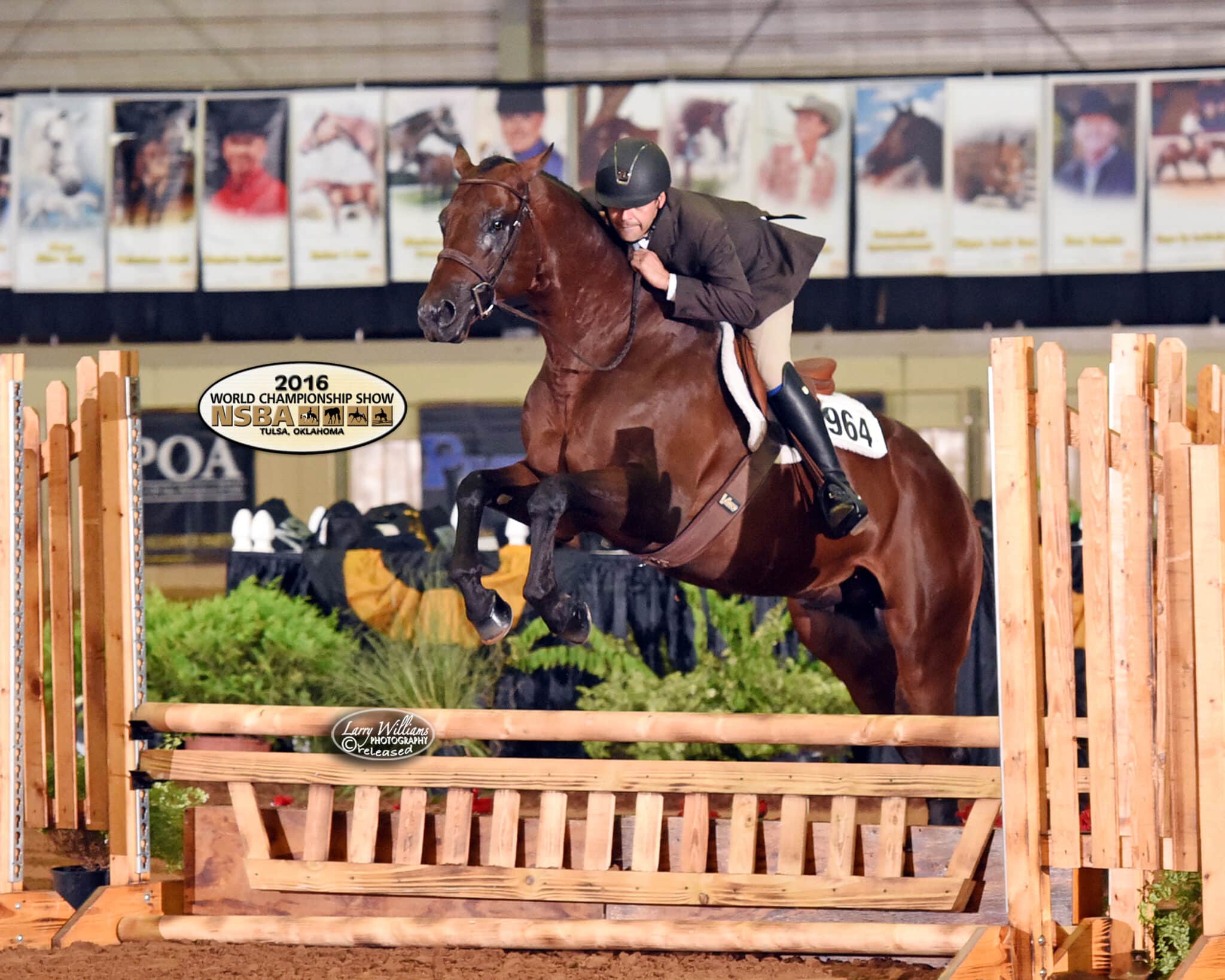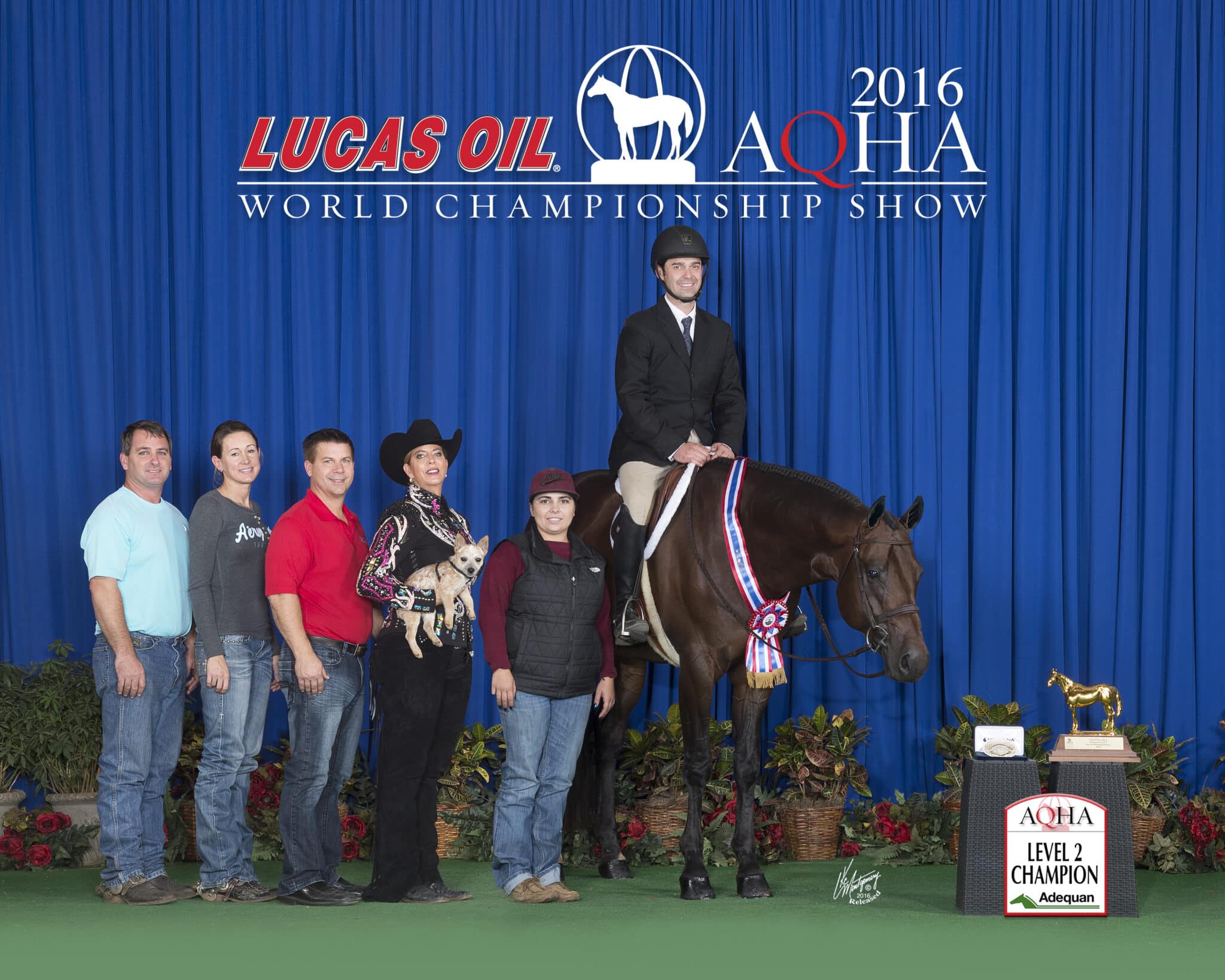 "I am so grateful to Katy Jo, Nancy Sue, Jason, Ryan and everyone who played a part in Wally's career," said Marcie. "They all did a wonderful job and I've learned so much from all of them. Wally wouldn't be the horse he is without each one of them."
What Matters Most was officially retired from competition following the 2016 World Show with more than 130 points and over $27,900 in earnings. From Oklahoma City, Wally headed north to Michigan to begin his breeding career under the expertise of Kim and Shelley Donovan. After four years at BSB Quarter Horses, in 2021, Marcie made the decision to bring Wally home to her new M&M Ranch Holdings in Ocala, Florida so that she could spend more time with him.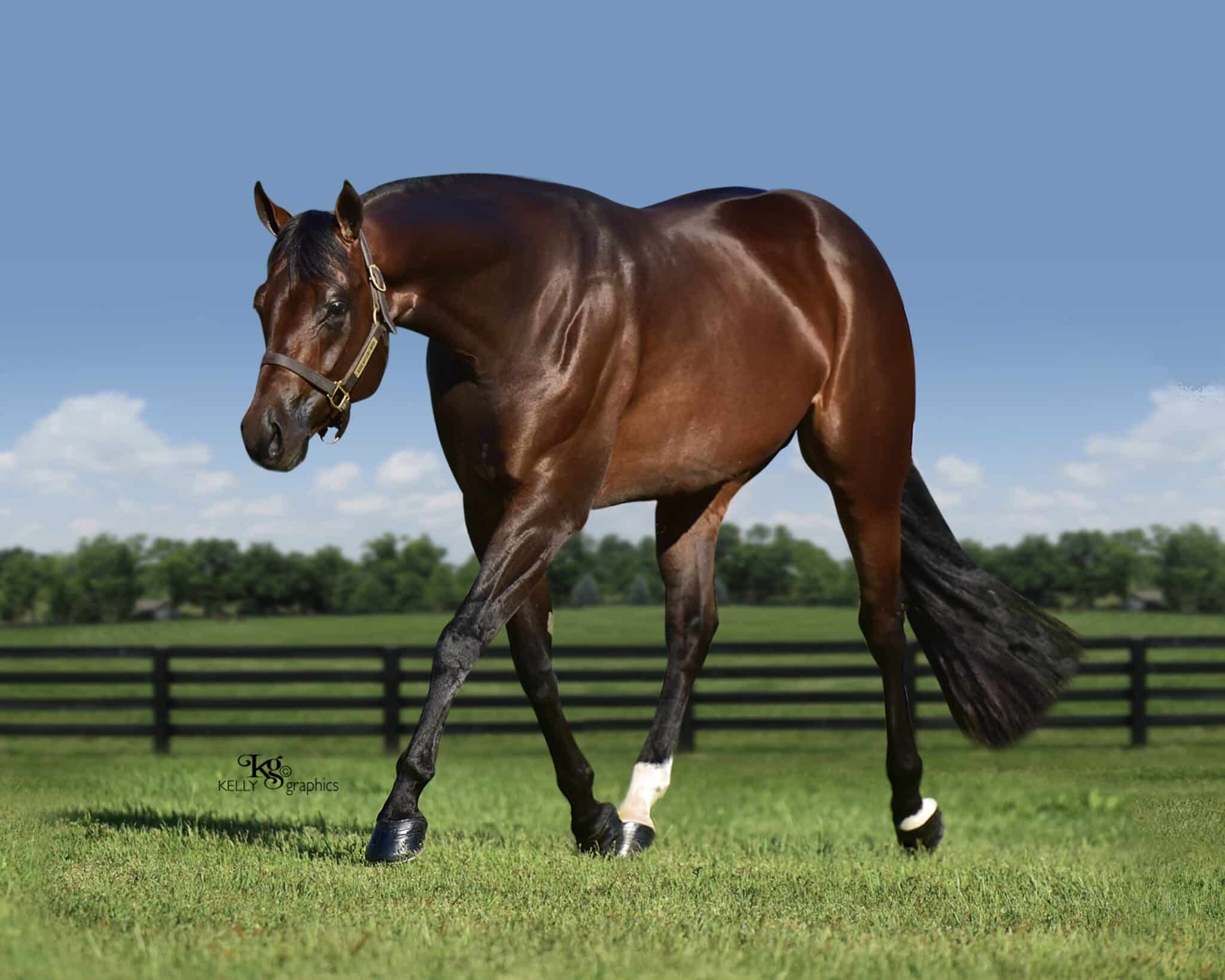 "I can't thank Kim and Shelley enough for all they did for Wally," said Marcie. "He is very easy to breed and handle, and they deserve a lot of the credit for that. The only downside of having Wally with Kim and Shelley in Michigan was that I never got to see him. After I purchased my farm in Ocala it just made sense to bring him home where I could enjoy him."
This year will mark the third breeding season that Wally has been home in Florida. On collection days, Marcie hauls him to Peterson & Smith, and when he is not busy fulfilling his breeding duties, Marcie can often be found riding Wally around her farm. "He's so good minded that it's sometimes easy to forget he is a stallion," said Marcie. "I can take him to be collected in the morning and ride him around the farm by myself in the afternoon. I think his mind is one of the best things about him. Of course, he is also well-built, gorgeous, and talented, but in my opinion it's his mind that sets him apart from other stallions."
Although Wally has crossed well on a variety of mares, with his offspring earning more than 539 points to date, one of his best crosses has been with LastMinuteInvestment, a daughter of Do You Have A Minute. This cross has produced Last One Matters, who has won over $11,000 which includes winning the Premier Sires 3-Year-Old Limited Horse Limited Rider Hunter Under Saddle and placing Top Five at the Congress in Green Hunter Under Saddle and Top Ten in the L2 Junior Hunter Under Saddle at the AQHA World Championship Show. Farley McLendon has had "Lisa" in training for owner Holly Taylor since she was a late 2-year-old.
"I've ridden three foals sired by What Matters Most, and they have all been good minded," said Farley. "Lisa's owner, Holly, is a Novice Select who hadn't shown in over 10 years. The first time she showed her she won the Select Hunter Under Saddle. Lisa is currently in foal to Good Better Best so has been turned out. My kids will just go hop on and ride her all over the pasture. I'm also currently riding a 2-year-old that we bought specifically because we liked Lisa so much. He is also owned by Holly, and we are saving him for the 3 & Over Maiden Hunter Under Saddle at The Premier next year. He's got a lot of body control and has both gears. We have high hopes for him."
One of Marcie's personal favorite foals by Wally is her coming four-year-old gelding, What Does It Matter, who is known as "Brady" because he was born on Superbowl Sunday. Unfortunately, after starting his show career this year at the Georgia On My Mind circuit, where he won the NSBA Green Hunter Under Saddle and was Reserve Champion in the 3-Year-Old Open Hunter Under Saddle, Brady had to undergo colic surgery. Although he missed the remainder of his three-year-old year, Brady has since made a full recovery and is now back in training in preparation for the 2023 show season.
"Brady is a full brother to Last One Matters," said Marcie. "LastMinuteInvestment has been a fabulous cross with Wally. It was disappointing to miss the three-year-old futurities this year but there was a time when we weren't sure Brady was going to make it. Thankfully, he pulled through and is doing great now. He reminds me so much of his sire and I'm excited to get him back into the show pen."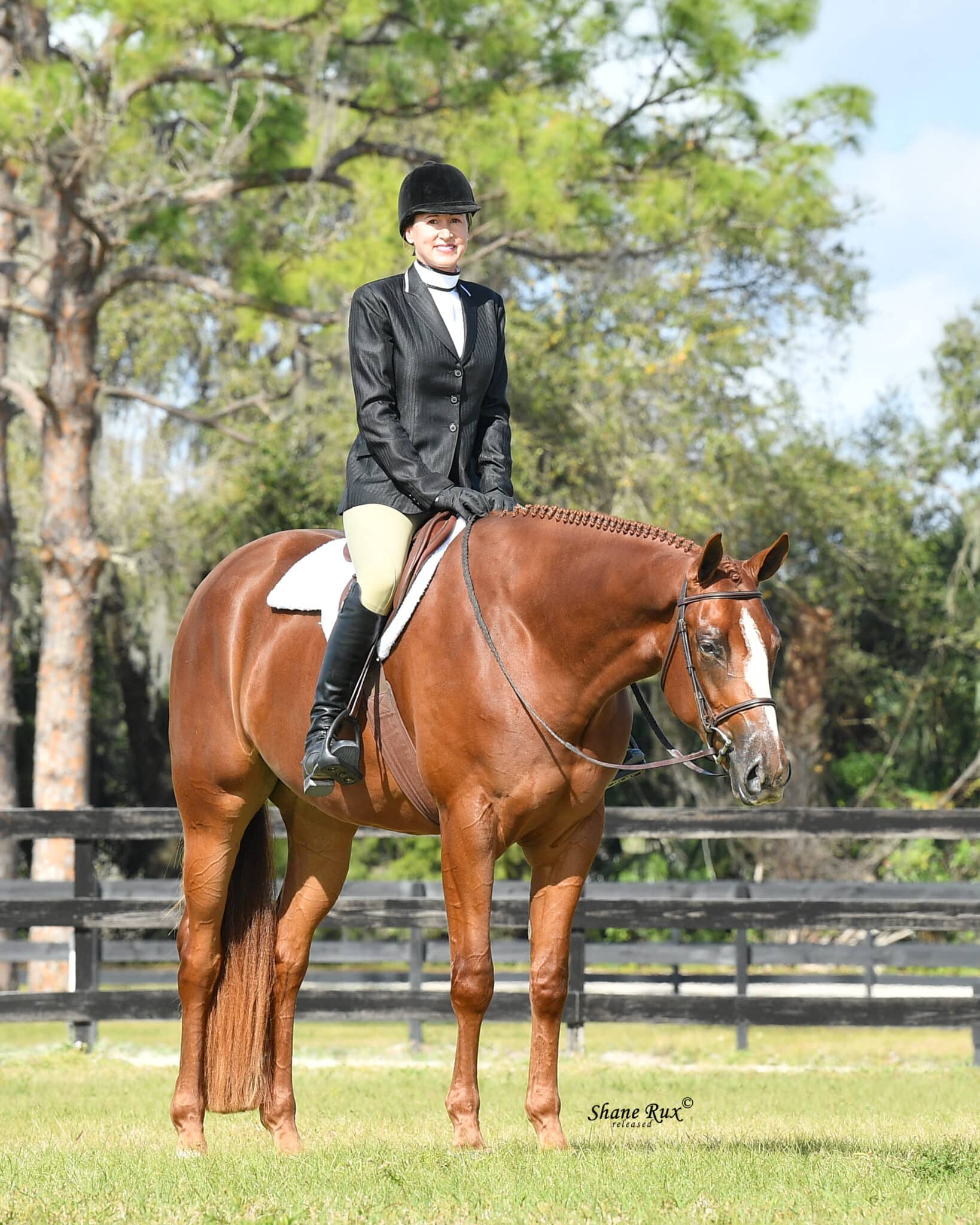 From limited foals What Matters Most has sired All-Around champions, Superior earners, futurity winners, and World Show Top Five winners. His offspring have had success in Open, Amateur and Youth competition, which is something that Marcie is very proud of. "I love the babies. I love watching them grow up and become show horses. It gives me so much pleasure and fills my heart to see his foals bring others so much joy. It's really the best part of owning a stallion."
Although What Matters Most may be the first stallion that Marcie has owned, she has been riding and showing horses for most of her life. Because her father was in the military, Marcie's family moved frequently. While the family was stationed in El Paso, her older sister, Roxanne, began taking jumping lessons. Wanting to be just like her sister, Marcie took to riding a stick horse around the house.
"My mom would put up fake jumps and I would jump over them with my stick horse so that I could be just like my sister," said Marcie. "As soon as I was old enough, my parents got me a hunter pony and I started taking lessons. Eventually that led to showing. I have a lot of great memories of going to shows with my mom and sister."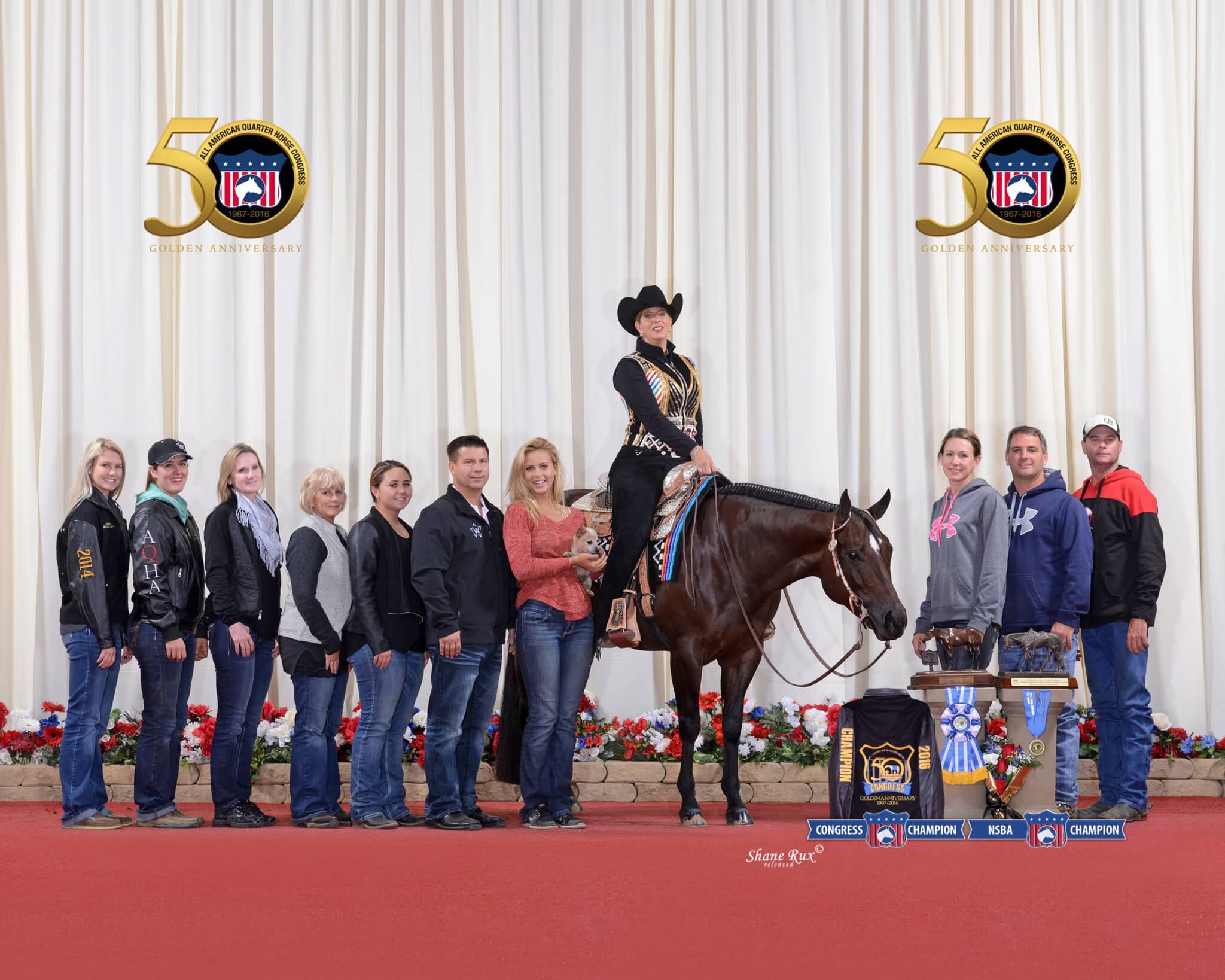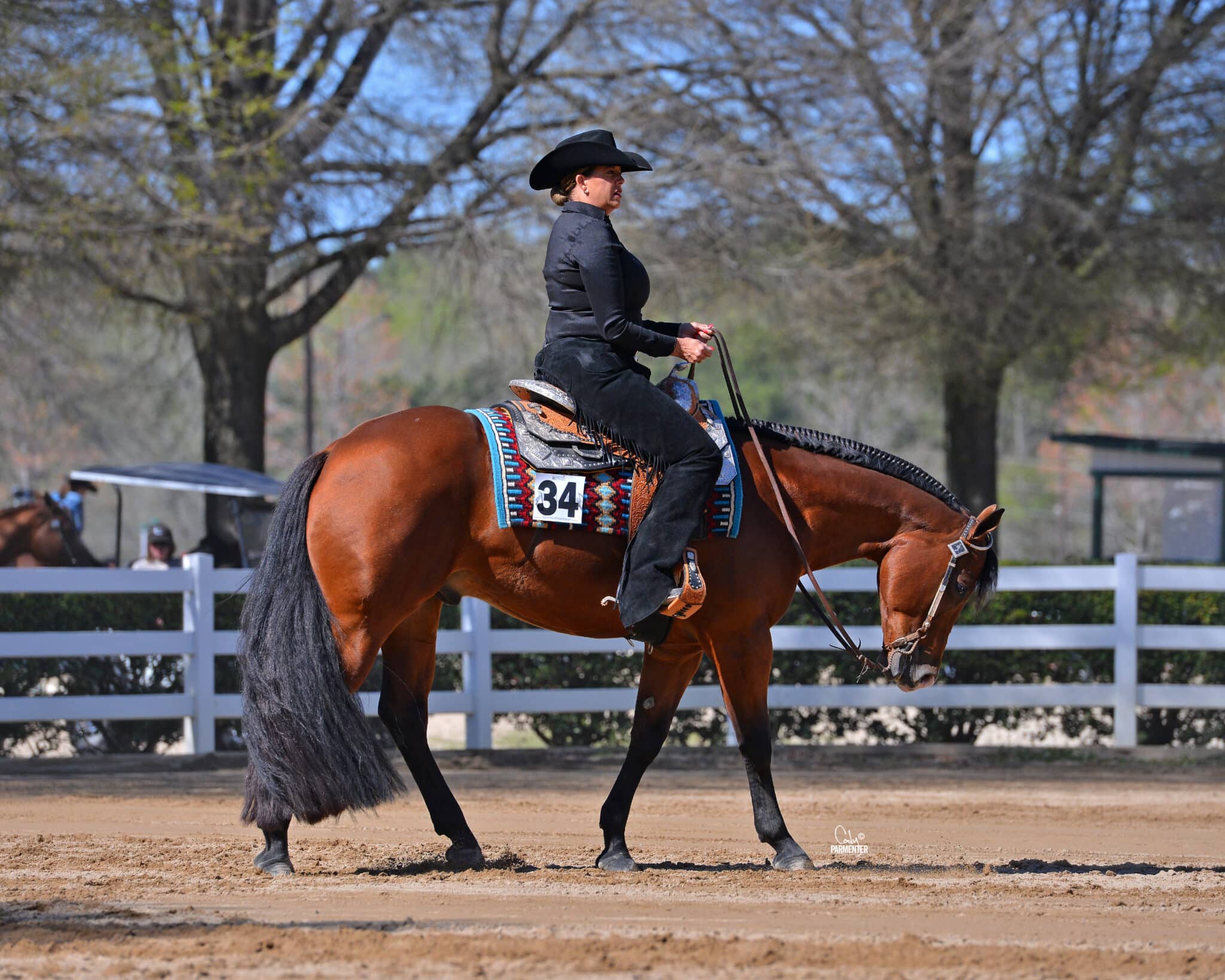 Prior to heading off to college, Marcie purchased a Quarter Horse mare that she planned to take with her to school. Soon after, she was introduced to Congress and World Champion hunter trainers David Warner and David Connors. Under their guidance she began competing in AQHA hunter events. "The AQHA shows are very different from the Pony Club and Hunter shows where I started out, but I quickly met so many wonderful people that really made it a lot of fun. I've been hooked ever since and one of the things I continue to enjoy most about the shows are all the wonderful friends I've made."
Although Marcie's passion has always been the hunt seat events, several years ago, she and her daughter, Kayla, decided to branch out and try something new. "At the time I was riding with Nancy Sue and when I told her that we were looking for a western horse she told me about Consider Me Best. Cole and Liz Baker had been showing her and Nancy Sue had judged her several times and thought she would be the perfect horse for us."
As it turned out, Nancy Sue was right. Under the guidance of Cole and Liz, Marcie showed Consider Me Best to win the Congress Championship in Novice Select Amateur Western Pleasure in 2016. Kayla also had great success with "Hope," winning a Reserve Congress Championship, Tom Powers Championship, and multiple circuit championships. Marcie is quick to credit the success they had as newcomers to the Western Pleasure to their trainers and Hope. "Liz and Cole are just wonderful and were so patient in teaching Kayla and I how to ride and show a western pleasure horse. They are both so knowledgeable and work hard to do the best they can for their clients. We also were very fortunate to have found Consider Me Best. She was a great fit for us and such a kind mare. She really took care of us in the pen every time we showed her."
In 2020, Marcie purchased Scandaless, a 2018 mare sired by RL Best Of Sudden, who Cole showed the following year to win the Congress Championship in the 3-Year-Old Western Pleasure Sale Stakes and Reserve Congress Championship in the 3-Year-Old Novice Horse Limited Open Western Pleasure. Scandaless is currently offered for sale so that Marcie can focus on her new all-around horse, multiple NSBA World Champion, Shootin The Breeze, who she purchased earlier this year. Competing in the all-around events has been a challenging but welcome change of pace for the life-long hunt seat rider. "Learning so many new events has been really hard, but a lot of fun. There are so many different things to remember for each class, but I love it."
Looking ahead to the 2023 show season, Marcie will continue to show Shootin The Breeze in all-around events and is also excited to show What Does It Matter in Select and Non-Pro Hunter Under Saddle. Brady will also show in Novice and Limited Horse Hunter Under Saddle events with Liz.
"The three classes I am really focused on for the upcoming show season are the Trail, Western Riding and Horsemanship," said Marcie. "My goal is to compete at the Level 1 Championship, which I couldn't attend this year. I'm also looking forward to getting What Does It Matter back to the show pen in the Hunter Under Saddle. I've got two horses who I really enjoy riding and trainers who make showing a lot of fun, so I'm looking forward to a great year."
What Matters Most will stand the 2023 breeding season at M&M Ranch Holdings in Ocala, Florida. His breeding fee will be $1,250 and all breeding inquiries can be directed to Marcie McClenon at 209-764-0376.