Written by Claire Binkowski
Since purchasing her first Quarter Horse in 2020, Morgan Miller has never looked back. Not only has she embraced the change from showing Appaloosas, Morgan has also been diversifying into new events. After branching out from the Hunter Under Saddle to Western Pleasure over the past few years, Morgan is now taking on new challenges in the all-around arena.
When former owner Lauren Graves decided to offer NSBA World Champion and AQHA Reserve World Champion No Question Im Lazy for sale, Brad Ost and Troy Lehn immediately called Morgan, who has been training with them for the past three years. Since "Jethro" is an accomplished all-around horse, Brad and Troy felt like he would be the perfect horse for Morgan to begin her all-around career with.
"Brad and Troy had been training and showing Jethro for about a year when Lauren decided she was ready to sell him," shares Morgan. "He's a been there, done that horse and one they felt would really take care of me and help me learn the all-around events."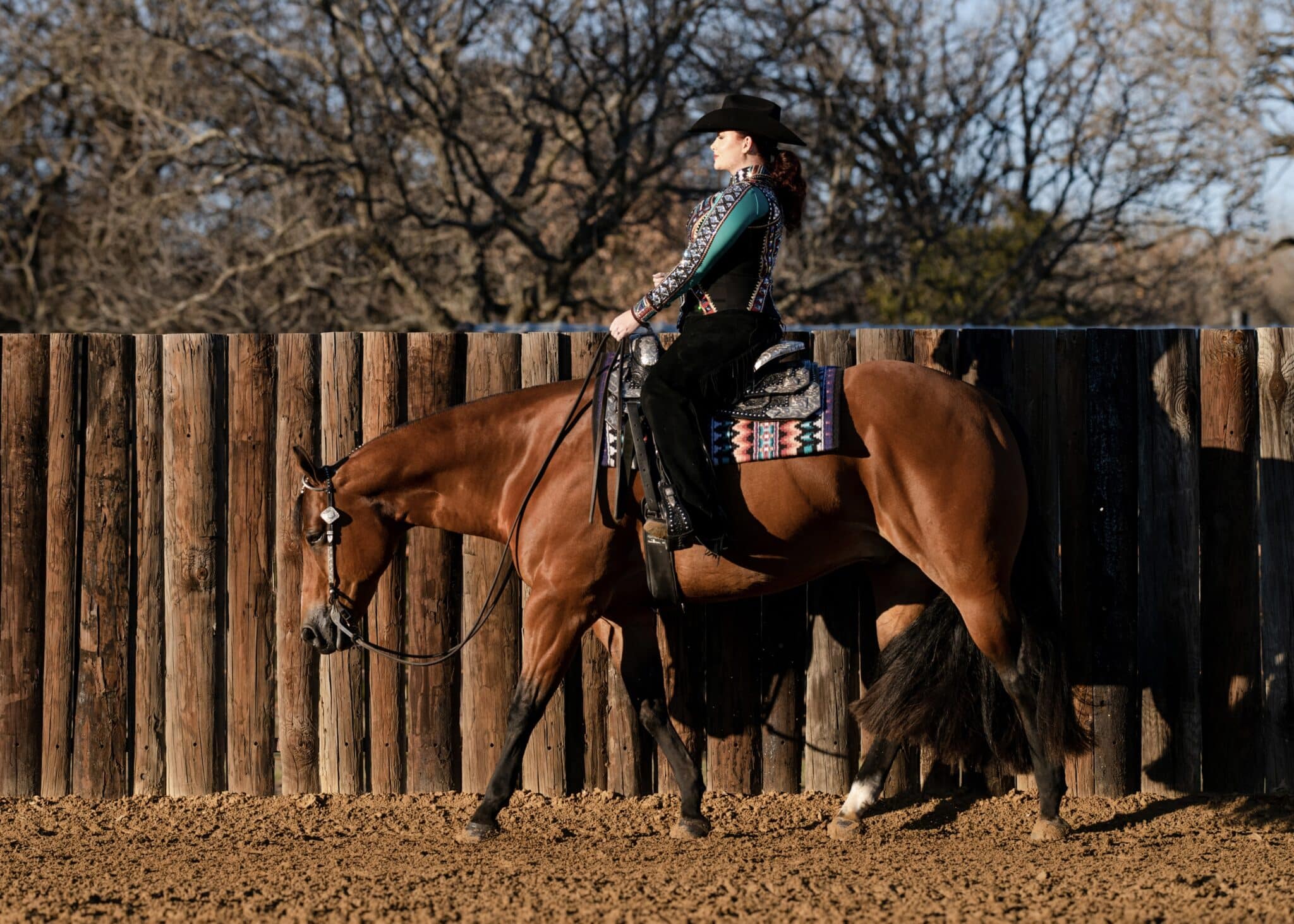 Been there, done that describes Jethro perfectly. He began his show career as a two-year-old in the Western Pleasure futurities, and by the end of his three-year-old year, Jethro had already earned Superiors in Showmanship, Trail, and Western Pleasure, and won an NSBA World Championship as well as several all-around titles. In 2018, Lisa Neiberger showed Jethro to win the Reserve World Championship in Horsemanship at the AQHA Amateur Select World Championship Show, and in 2020, Lauren Graves rode Jethro to win the Reserve Championship in Level 2 Horsemanship at the AQHYA World Championship Show. Over the years, Jethro has won numerous all-around and high point titles in Open, Amateur and Youth competition winning more than $52,000 in NSBA earnings and over 1,300 points to date.
For Brad Ost, teaming Morgan up with such an experienced horse was an easy decision. "When Lauren told us she wanted to sell Jethro, we really wanted to be able to keep him in the barn. We knew Morgan wanted to start showing in the all-around classes and putting her on one of the green horses that she had would have made it a lot harder for her to learn those events. We just felt like Jethro would be a great teacher and help prepare Morgan to show her other horses in the future."
And Brad and Troy were right. Morgan recalls one of her first rides on Jethro, when she was still just thinking about buying him. Even though Morgan had never been taught how to change leads, when she when to change on him for the first time, Jethro did his job flawlessly. "I was getting ready to leave the World Show, so I was wearing leggings and tennis shoes and Troy asked me if I wanted to take Jethro out and ride him. After cruising around for a bit Troy told me to go across the middle and change leads. I really had no idea what I was doing or what buttons to push, but Troy talked me through it and Jethro was perfect. Since Western Riding has always been one of my favorite classes to watch and the one I most wanted to learn, that really sealed the deal."
In addition to the Western Riding, Morgan is looking forward to showing Jethro in the Horsemanship, Trail and Equitation with their sights set on the Novice Amateur events at many of the major circuits including the NSBA World Championship Show and All-American Quarter Horse Congress.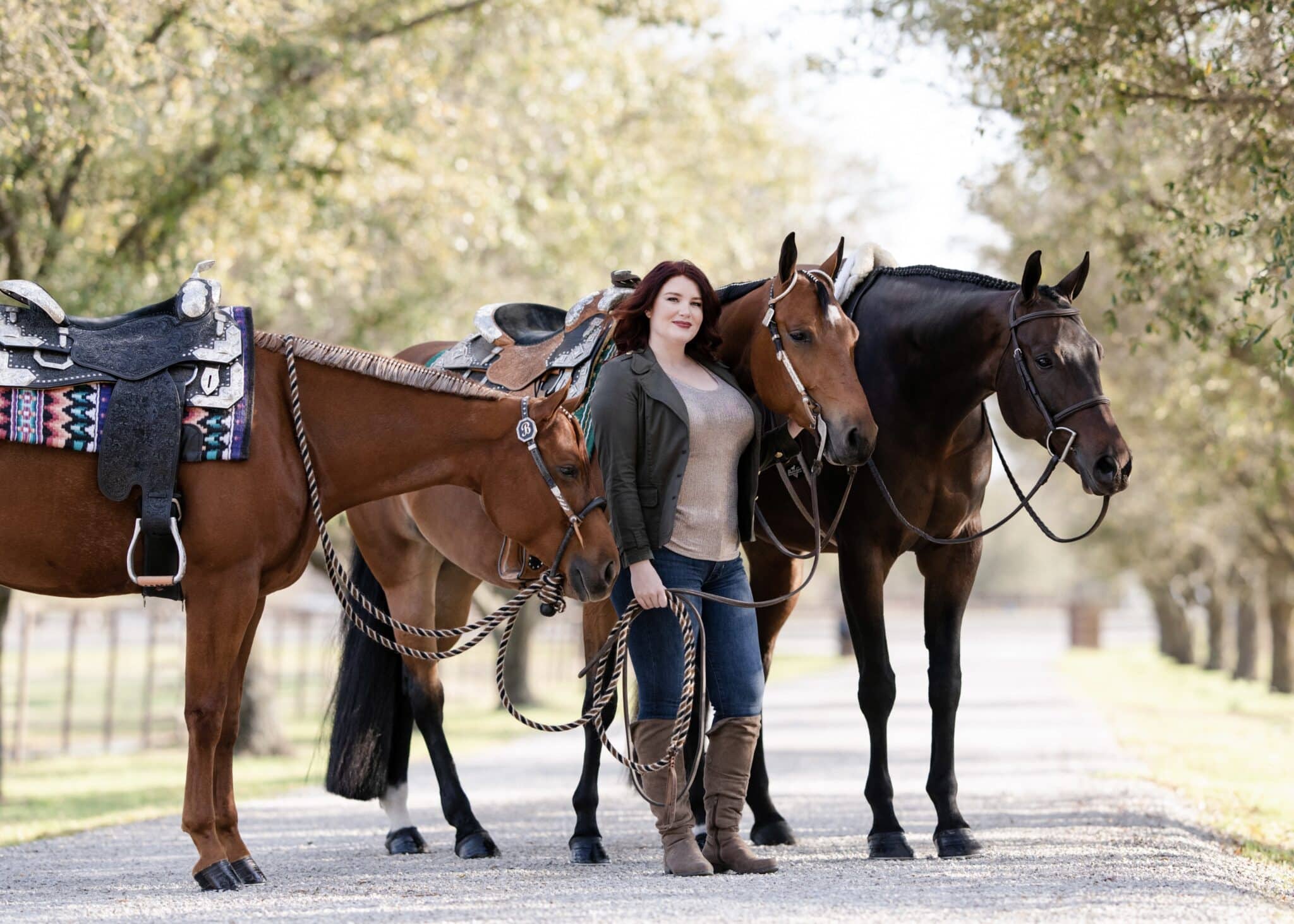 "I've never shown in any of the all-around events before, so this is really going to be a learning year for me," said Morgan. "Having only shown in the Western Pleasure and Hunter Under Saddle, I'm definitely more comfortable with classes judged primarily on the horse as opposed to me, but I enjoy challenging myself."
And Morgan is definitely challenging herself this year. Not only is she learning the western all-around events with Jethro, but she also showed in the Pleasure Driving for the first time at the Tampa and Venice circuits and has been taking jumping lessons with Hows That For Ya, who was the first Quarter Horse Morgan purchased. After successfully showing "Howdy" in the Hunter Under Saddle for the past two years, Morgan decided to send him to Florida to learn the jumping and driving with Tyler Haney.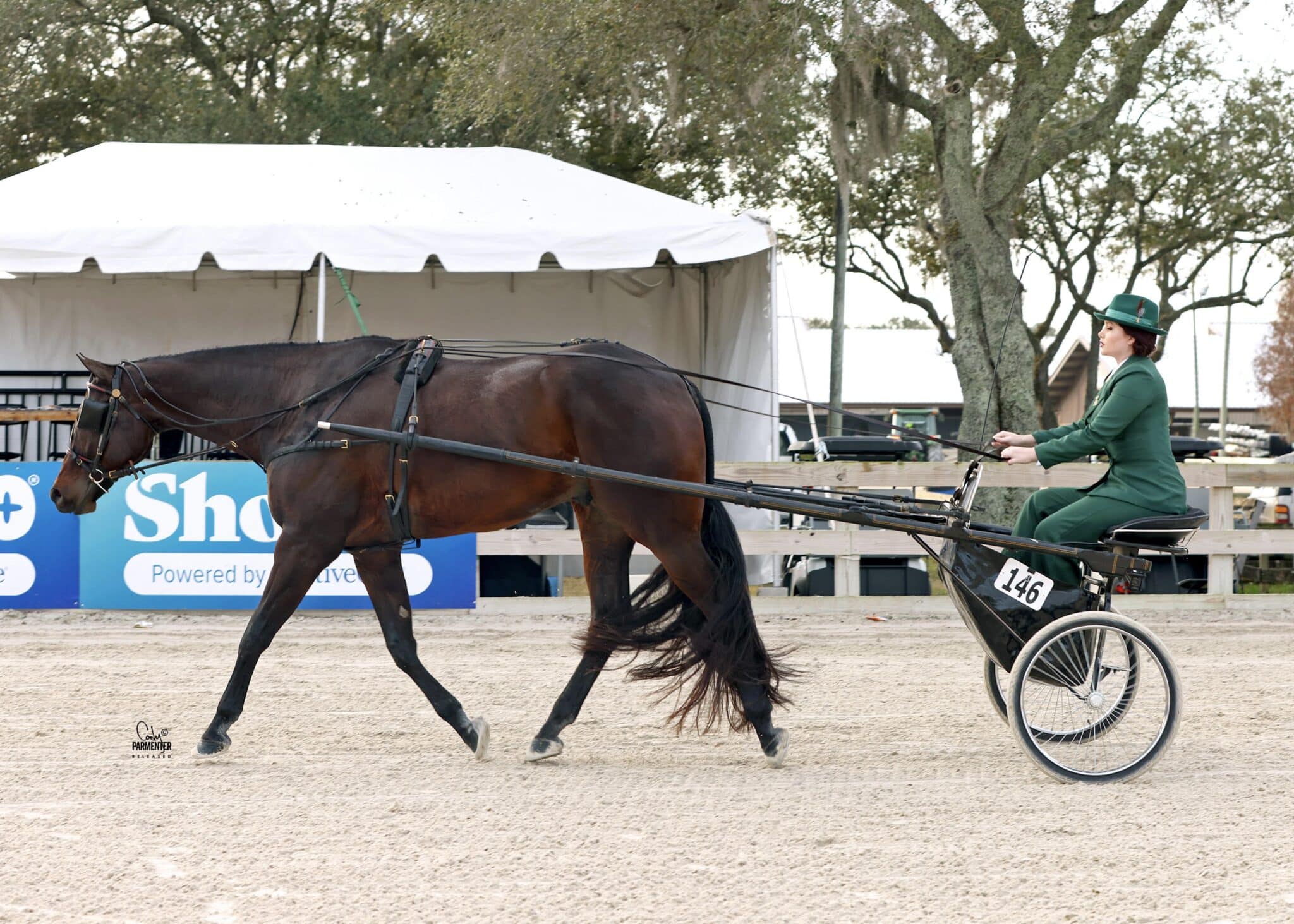 "In the past when I showed young horses, after their futurity years I either sold or retired them," shares Morgan. "Howdy has a forever home with me, but he wasn't ready to be retired, so Brad, Troy and I made the decision to send him to Tyler to continue his show career in some new events. Katy Jo Zuidema, who was Howdy's trainer at the time we bought him and has continued to be a great partner in his show career, was the one who recommended Tyler to us, and I'm so glad she did. Tyler has done such a great job with him, and I had so much fun him showing in the Pleasure Driving. Tyler has been showing Howdy in the Working Hunter and Hunter Hack, but I'll probably wait until next year. I've been taking lessons with Tyler and even though I jumped a little bit as a kid in Pony Club, I forgot how hard it is. It takes muscles I didn't know I had but I think the jumping has really helped all my riding by making me stronger and more balanced. I always tell Tyler he has his work cut out for him with me, but he seems far more confident! I like to give myself grace in learning new things and I'm taking on a lot this year so for now I'm just going to keep taking lessons and work towards showing in the jumping next year."
While Morgan is focused on learning new events, she has several young horses who are also expanding their repertoires including Congress Champion and Reserve Champion Got What I Got, and NSBA Reserve World Champion Made It In Time.
"One of the main reasons for purchasing Jethro was so that I can learn the all-around events on a seasoned horse and let Brad and Troy concentrate on training and showing 'Annie' and 'Maren' this year," said Morgan. "They are both so talented in the Trail and Western Riding and I am looking forward to showing them in the future."
Got What I Got is planned to make her Trail debut in the Premier Sires 3 & Over Maiden Trail at The Premier with Brad and has started changing leads. In addition to the Trail and Western Riding, Annie will continue to show in Amateur and Non-Pro Western Pleasure events with Morgan. Made It In Time has been showing in the Trail for the past two years, beginning as a three-year-old winning the NSBA Reserve World Championship in 3-Year-Old Open Trail. She will continue to show in Junior Trail classes this year with Brad.
"Both Annie and Maren are very special to me," shares Morgan. "They have both been a lot of fun for me to show in the Pleasure and I could not be happier with the success I've had with them the last two years. As much as I love showing them, I also love watching Brad show them. I remember watching him show Annie in the 3-Year-Old Western Pleasure at the World Show and getting chills because she looked so good. I've really enjoyed watching them move on to the next step in their careers learning new events."
Of course, a horse is only as good as the team behind them, and Morgan is quick to credit her trainers with helping both her and her horses succeed in the arena.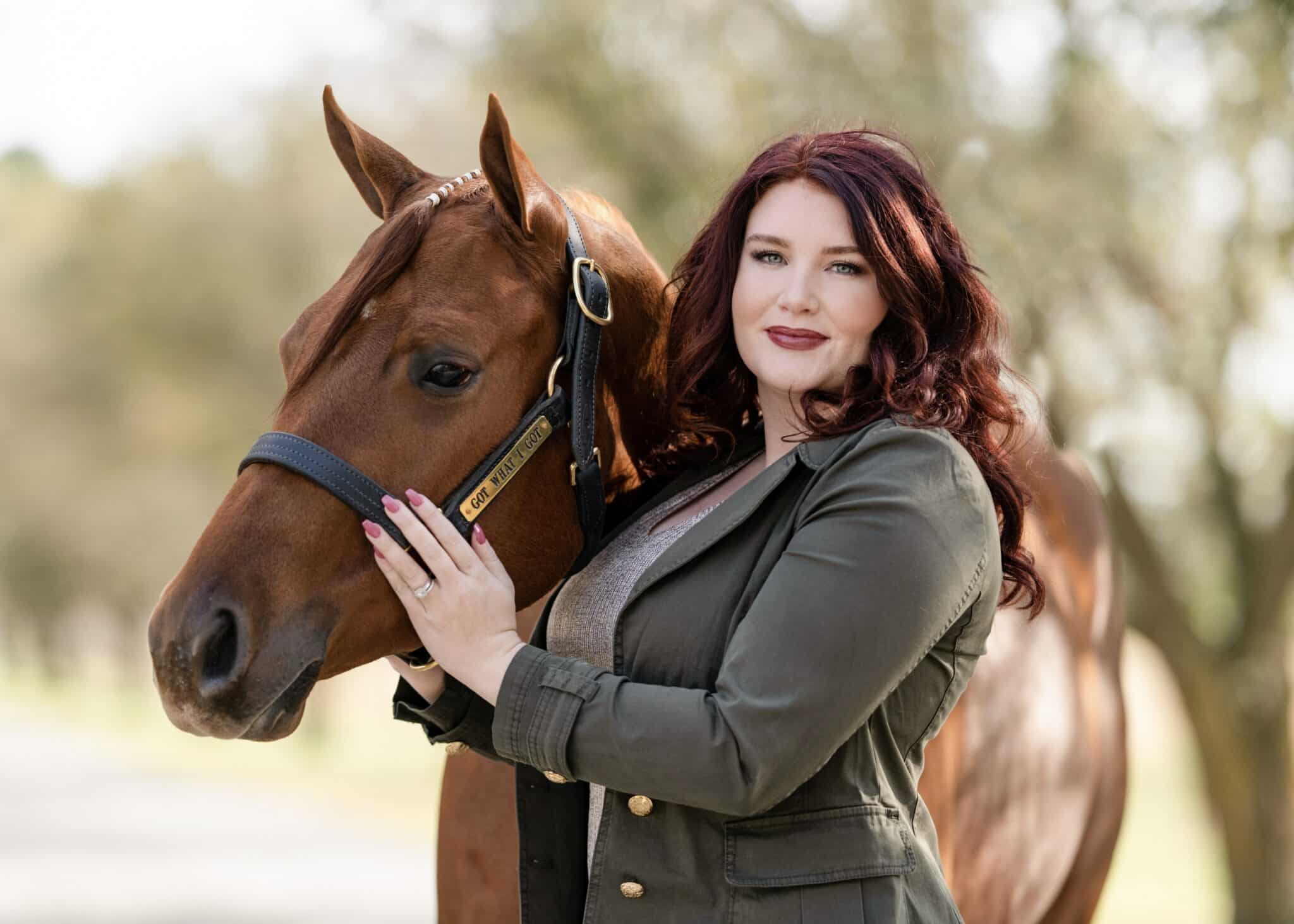 "Working with Brad and Troy is a lot of fun," said Morgan. "They are both very good at what they do as well as teaching and explaining things to me. I've worked with them exclusively for the past three years so when we made the decision to send Howdy to Tyler, I was a little worried, but they have similar styles and all work very well together which makes it easier on me. It can be hard sometimes just because they are in different parts of the country and don't always go to the same shows, but so far we've been able to make it all work. I feel very fortunate to work with all three of them and am very grateful for their support and guidance."
And that sentiment is mutual. "When a customer first comes into the barn you never know how that relationship is going to develop," said Brad. "With Morgan coming to us from the Appaloosas, we really didn't expect her to jump into the Quarter Horse industry full force the way she has. It has been a lot of fun and we enjoy riding horses for her and are looking forward to being part of her next chapter in the all-around events."