The most successful competitors don't focus on trying to beat their opponents, instead they constantly pursue improvement in an effort to reach their own highest potential. That philosophy—always striving to be your own best competition—has helped Amateur Select all-around exhibitor Joe Whitt win AQHA and PHBA World Championships, Reserve Congress and NSBA World Championships and numerous circuit championships. In this week's Exhibitor Spotlight, Joe answers our questions about everything from how he got started riding to what advice he has for other equestrians. He also reveals which fellow Amateur competitor he looks to for inspiration as well as what his goals are for this year with his horses Suddenlee Single and Stone Code Sober.
Premier: When did you first start riding horses?
Joe: I started riding horses on our farm when I was 3 or 4 in Virginia and continued to ride for fun off and on for a couple of years.
Premier: When did you start riding competitively?
Joe: My first show was when I was 9 and I showed in Pet Pony (walk/trot) and was 4th out of 18 entries and I was hooked. I showed open shows, 4-H and a little AQHA as a youth kid. After college I got involved in the Palomino Horse Breeders Association and showed competitively at their shows before making the move to AQHA shows in 2000.
Premier: What is your favorite class to show in and why?
Joe: Showmanship. I like the bond you form with your horse on the ground that requires timing, execution and precision of a pattern with creative detail and style. I enjoy all of the scored classes but have an appreciation for a great horse and rider in any class.
Premier: What has been your most memorable or meaningful accomplishment showing horses?
Joe: I think being Reserve at the Congress with Safe Havens Version (Jasper) was special. He was a project that had not been shown much or in a training program. Ryan had ridden him as a young horse, and we bought him as a 12-year-old out of the field needing some groceries and care. I started showing him in March and really did not expect to show him at the Congress because I was also showing Huntin For Max. Then in August, due to conflicting schedules, we decided that I would show Jasper in the Showmanship. I only had a couple of shows in September to prepare and ended up winning the Reserve Championship. It was a great accomplishment and my first big prize at a National level. It has also been fun to see Jasper move on and be very successful with Jessie Hadlock and Katie Benson.
Premier: What are some of the challenges you have faced and the lessons you have learned showing horses?
Joe: I think the biggest lesson is that every horse is not for every person and the key to success is matching the right horse with the right person. If you try to force the partnership it will not work. I think the biggest challenge is managing vet work to ensure your horse is always prepared, especially at the big shows when something happens unexpectedly. Everything else is an opportunity that allows you to improve or grow!
Premier: Other than the Congress or World Shows, what is your favorite horse show?
Joe: I have several, but I would say the Florida Gold Coast is a lot of fun and continues to grow. Kathy and her team do an amazing job of managing the shows. I like the Madness a lot and love both WEC facilities. And I am of course excited to do the Premier Sires show in Lexington this year!
Premier: Do you have any superstitions or pre-show rituals?
I don't have superstitions, but I am pretty anal about getting the horses ready to show, especially for showmanship. I would say I have my routines and stick to them.
Premier: Who is your greatest inspiration or are there any equestrians that you look up to?
Joe: I have several, but I really have a lot of respect for Kaleena Weakly. I have known her for about 20 years and have seen her success in the show ring with multiple horses, many of which were young and most started their careers in pleasure. I love to watch her do the showmanship and horsemanship and think she is a great competitor and human being. Also, a very good friend and mentor and someone who always encouraged me to be my best was Sandy Walker. Unfortunately Sandy passed away recently, but her passion for horses was instilled in me and our friendship is something I will always cherish.
Premier: Which trainers or mentors have had the biggest impact on your riding career?
Joe: I have only been in five programs and they have all been changes due to relocations or disciplines and I have learned so much from all of them. The Puthoff's in Ohio, Larry and Rhonda Spratto in Wisconsin and Tommy Sheets have all had a positive impact on my riding career. Ryan Cottingim and Mandi Gately have had a major impact on my overall riding and showing skills with a focus on the all-around events, and Brian and Dawn Baker have helped me tremendously with showing in the western pleasure. Ryan is amazing with both training the horse and coaching for showmanship. He is very methodical and analytical which I totally relate to. He has been great in adding events or advancing me to next steps with each of my horses as I have progressed. I think all of the above trainers have complemented my progress and prepared me for success at different times during my show career.
Premier: Who has been that special horse in your equestrian career so far and why?
Joe: I showed a really cool Palomino stud many years ago named Skippa Sure Gold that we purchased from Linda Sargant who was a lot of fun. I broke him and showed him successfully. My real once in a lifetime horse is the mare I am showing now, Suddenlee Single. She is fun, fun, fun and we connected almost immediately! We continue to improve every show.
Premier: Is there anything you would like to see changed in the industry?
Joe: Overall I think it is a great industry to be part of. I love the support provided by different shows and organizations for the EWD and veterans and I think the walk trot classes that we have added give everyone the opportunity to show, have fun and be successful. I am social and love to eat and drink wine at night, so having the select classes before 5 would be great! I do think we need to evaluate the overall cost and the weeklong circuits competing with one another or we may start to lose participation at the weekend horse shows.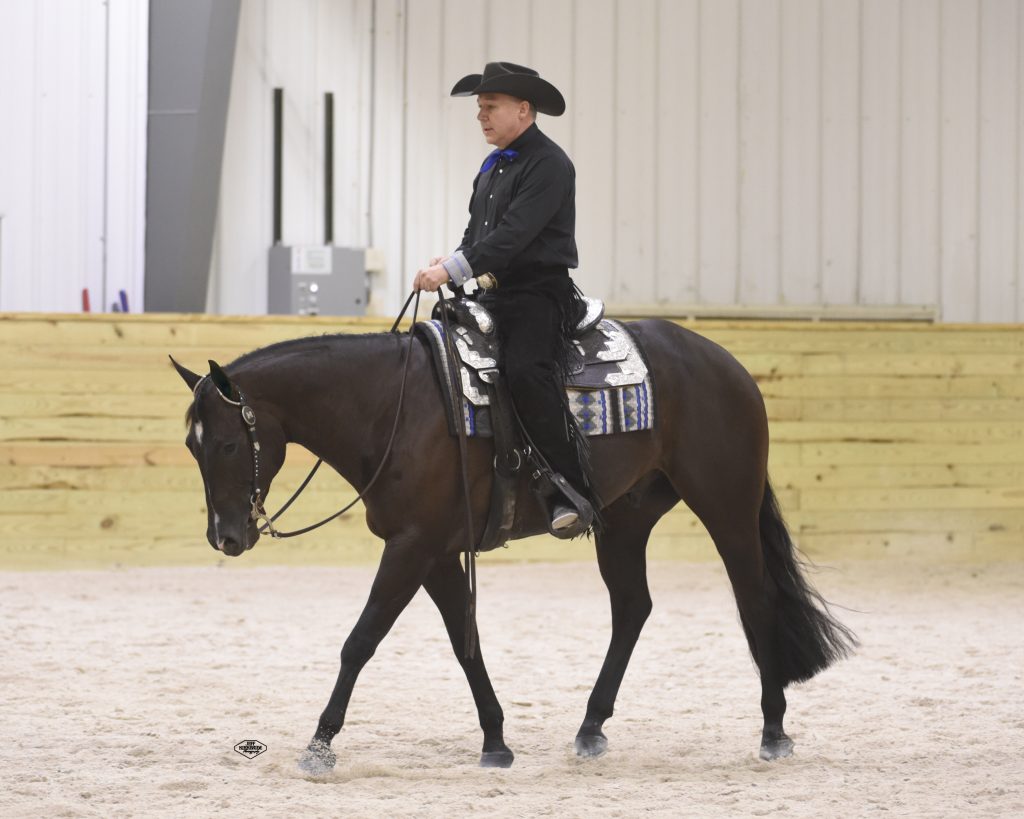 Premier: Do you have a career outside of the horses, and if so, what do you do?
Joe: I do have a career and feel very blessed to work for a great company, Trilogy Health Service where I am the COO for our Pharmacy division, PCA Pharmacy. Trilogy operates 117 senior living campuses in the Midwest, and I oversee the pharmacy where we currently have 9 locations serving 14 states. I love to talk about our business and what we do as a company!
Premier: What type of non-horse related activities do you enjoy?
Joe: I am a pretty simple person, so I enjoy the normal activities: watching football (go Pack!), cooking and drinking with friends, travel and spending time with friends and family.
Premier: What are your plans for the future, horse related or non-horse related? What horses will you be showing in 2021? Are you adding any new events?
Joe: My career goals are very important to me and I have specific growth goals for our company. I am approaching retirement age at some point in the next century, but as long as I am having fun I will be there. My horse goals are to have fun and enjoy the ride with my two awesome horses this year and show at the big three (AQHA and NSBA World shows and the Congress) and hopefully have success. In 2021 I will be showing Suddenlee Single in the all-around events and am hoping to show her more in the western riding this year. I'll also be showing Stone Code Sober, who is sired by Premier Sires stallion VS Code Red, in the western pleasure. He has been started in the showmanship and shows great promise and we will start to add more of the all-around classes later this year. Overall, what is most important to me is just having fun with all aspects of this crazy hobby, including the prep, practice, bonding with my horses and showing, but most of all enjoying the people I do this with.
Premier: If you had one piece of advice to offer to younger equestrians, what would it be?
Joe: Enjoy the journey and appreciate the opportunity to be able to participate in this industry! I would also say to everyone, be honest with yourself about your skill set and set your goals accordingly. Always be true to and honest with yourself when you do a personal evaluation of where you are in your show career and with your horse! Most importantly, enjoy the ride, the horse, the program you are in and the company you keep! Be most competitive with yourself and be a great sport! No one wins all the time and when it is your time, cherish those moments!