As a pediatric ICU nurse, Amateur exhibitor Alexis Solakian is one of the many healthcare workers who has been on the frontlines of the pandemic. The critical role of nursing has always been a stressful job, compounded by the current health crisis, so for Alexis horses have been her way to decompress. When Covid-19 put a screeching halt to everything, including horse shows, the APHA World and Reserve World Champion relied on many of the same skills that have helped her achieve success in the arena—stay calm, prioritize, learn to adapt and focus on the positive.
Premier: When did you first start riding horses?

Alexis: I think the first time I sat on a horse was when I was just a few weeks old, but I started riding when I was about 4. Our family friends owned a Hanoverian breeding farm, so I started out riding their retired jumpers and eventually wore my parents down into buying me a pony for Christmas. She was rotten and would only run backwards the first few times I rode her, and even after that I think I can count on one hand the number of rides I didn't get bucked off.

Premier: When did you start riding competitively?

Alexis: I first started showing on the APHA circuit when I was 13.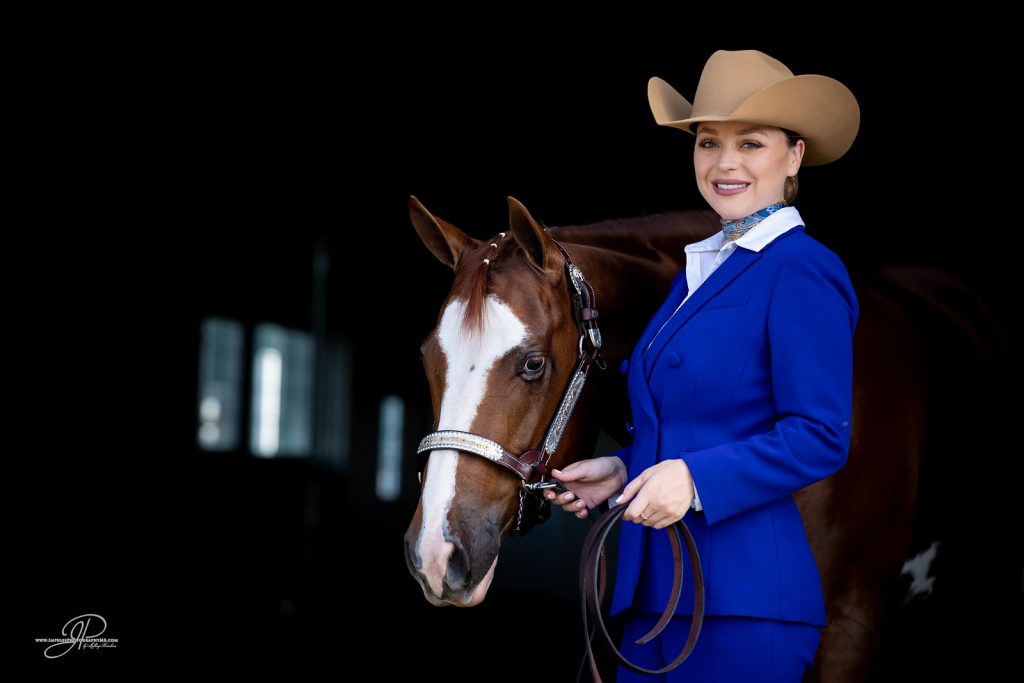 Premier: What is your favorite class to show in and why?
Alexis: My favorite class to show in is definitely the Western Pleasure. I really enjoy getting to see one go from unbroke to becoming a show horse. I love how much control you can have while making it seem effortless from the outside. It's fun when you know you're having a great ride and you're really able to show your horse off at all gaits and navigate traffic.
Premier: What has been your most memorable or meaningful accomplishment showing horses?
Alexis: My most memorable accomplishment is definitely being Reserve in the Amateur Senior Western Pleasure at the APHA World Show last year on Been There Scene It. I have loved that horse from the first time I saw him as a three-year-old, and he has always been my favorite horse in the barn. When I first met my fiancé, Austin Gooding, I'm pretty sure he bribed me to visit him by promising to let me ride "Winston," and it worked! I was fortunate that Coleen Bull leased him to me last year, and he made one of my lifelong goals come true. He is truly one of the nicest and most talented horses I've ever had the privilege of riding.
Premier: What are some of the challenges you have faced and the lessons you have learned showing horses?
Alexis: I think one of the biggest challenges in this sport is finding a team that works best for you and your horses. I have learned what a difference it makes to your horse's health and well-being, as well as your success and happiness. While this sport is extremely competitive and a livelihood for many, it also needs to be enjoyable. I am very fortunate to have a positive situation for both my horses and I, but it wasn't without some lessons learned along the way!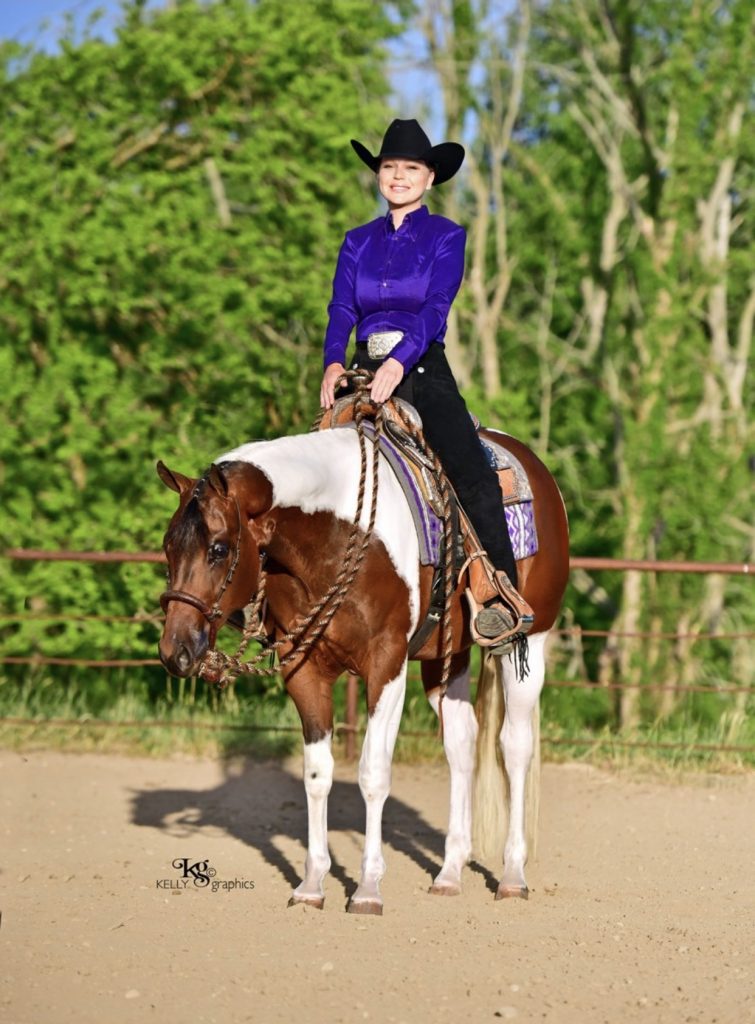 Premier: Other than the Congress or World Shows, what is your favorite horse show?

Alexis: My favorite horse show is the Harbor Classic in Ludington, Mi. It's always over the Fourth of July and every night we have a huge cookout with all of our friends. It's more like a vacation than a horse show.

Premier: Do you have any superstitions or pre-show rituals?

Alexis: Whenever I show the Showmanship, I have to wear a special pair of socks that got me with my dog's face on them. It's kind of ironic because he's an obese chocolate lab that doesn't run anywhere, but nevertheless he's my Showmanship good luck charm!
Premier: Who is your greatest inspiration or are there any equestrians that you look up to?
Alexis: One of the (many) people I look up to is Garth Gooding. He is the definition of a horseman. I really admire the fact that he is able to adapt his riding style to so many different types of horses and really thrives on working with the more challenging minded ones. He also gets the horses to respect him, and love their job, and for me that is one of the most important things. If you have to scare a horse into doing its job, you're not doing it right. Another equestrian I look up to is my best friend, Natalia DeVencenty. I really admire the way she can continue to sit up and show, even when her ride isn't going as planned. She is one of the prettiest riders I've ever seen, and she gives the best pep talks. She stays extremely calm and level-headed even before the biggest shows, and I think that really shines through with how confident she looks when she enters the pen.
Premier: Which trainers or mentors have had the biggest impact on your ridging career?
Alexis: Melissa Sachs taught me how to show the all-around, as I had really only done the over fences stuff prior to showing APHA. Garth, Austin and Sonnesa have taught me how to show all different styles of horses and really adapt my riding and technique to be effective in a variety of situations. I have also been very fortunate to get to go ride with Sara Simons while I was at TCU, and let's be real—everyone wants to be able to ride like her!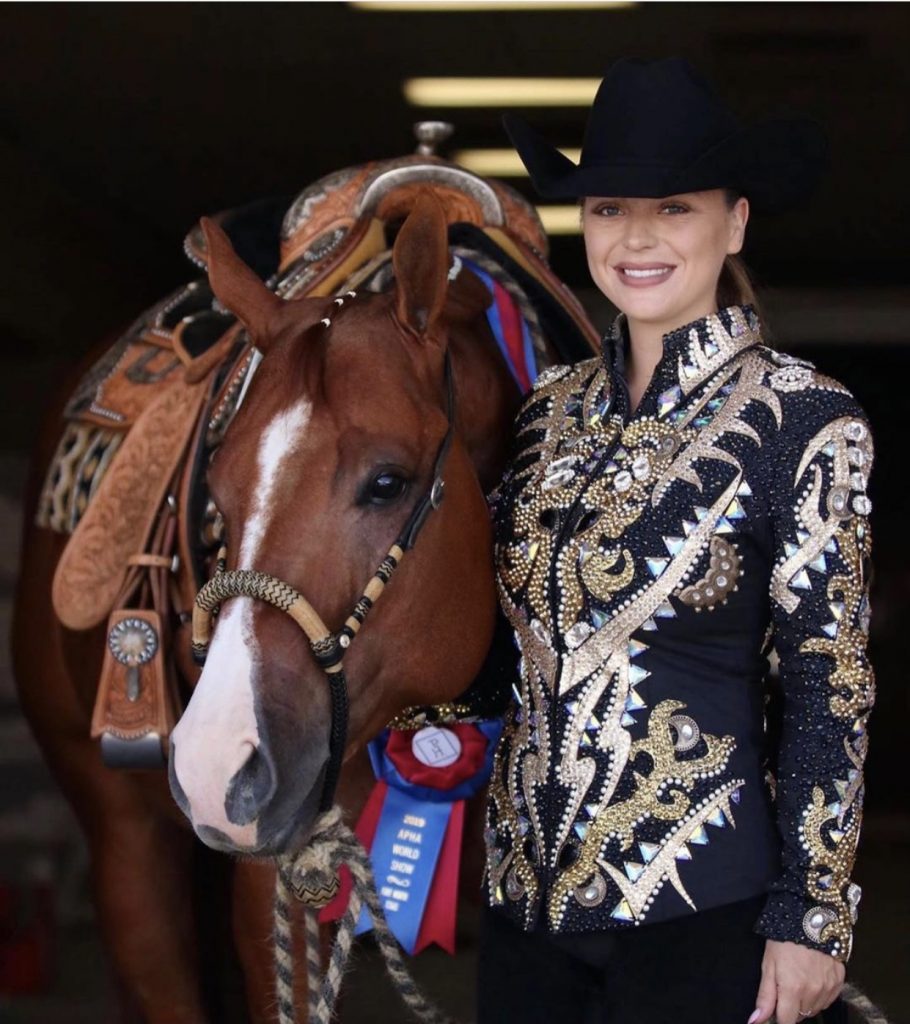 Premier: Who has been that special horse in your equestrian career so far and why?
Alexis: That special horse for me will always be Devil Drives A Hotrod. He was my first real show horse, and the horse that taught me to love the Western Pleasure. I got him when I was showing in the Novice 13 & Under, and he was only three, but somehow that combination worked out. I showed him all the way until my first year in Amateur. He still knickers at me every time I walk by his stall and no matter how naughty he is (which is very—he flooded the entire barn last month playing with his waterer) he will always be the favorite child.
Premier: Is there anything you would like to see changed in the industry?
Alexis: I think our industry as a whole is fantastic, but as with anything it has its downsides. I would like to see less of a focus on two-year-old events and more of a focus on three-year-olds. We ask a ton of these horses and having them broke by June of their two-year-old year is just too early. I'd like to see the first two-year-old classes to be at the Congress and World Show. Anymore, the early stuff is just a competition of who can cram theirs together the fastest, and not necessarily about the most talented horse in the pen.
Premier: Do you have a career outside of the horses, and if so, what do you do?
Alexis: I am a pediatric ICU nurse at UCSF Children's Hospital. I love my job, but it is extremely stressful, so riding horses is my way of decompressing. I am very lucky to have such a flexible schedule that allows a healthy work/life balance.
Premier: What type of non-horse related activities do you enjoy?
Alexis: Between working in California and flying to Michigan to see Austin and my horses, I don't have a ton of spare time in between. I really enjoy any sort of margarita sipping and I love a good game night!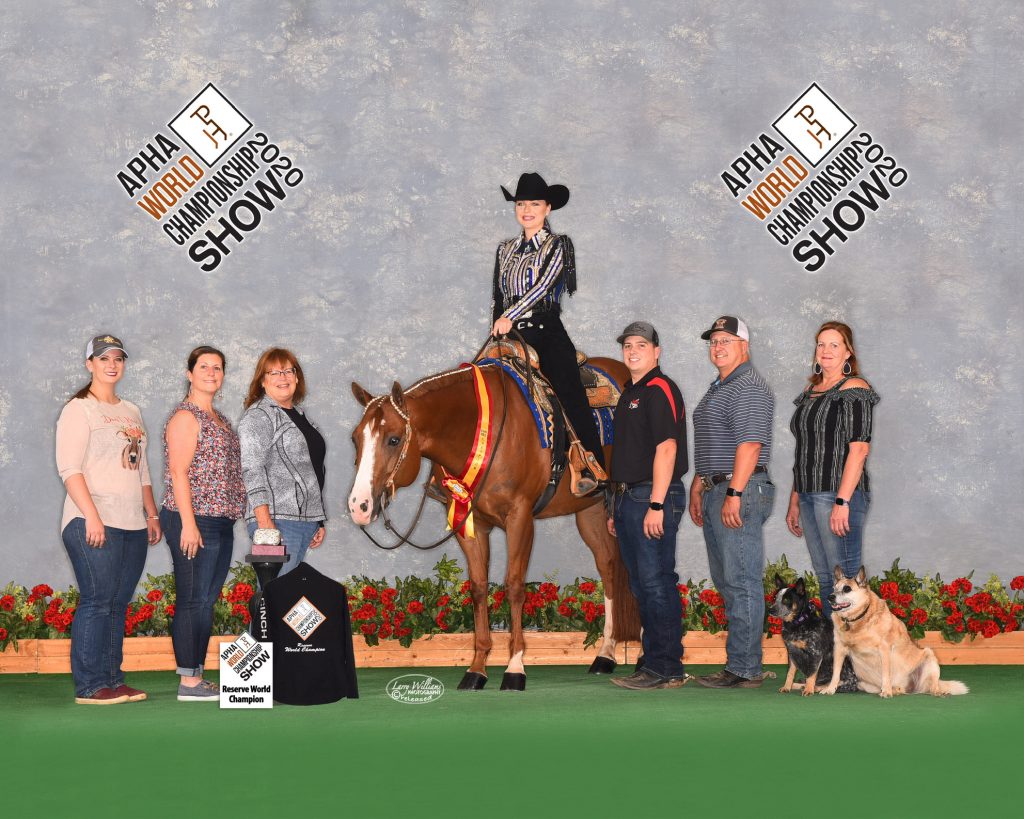 Premier: What are your plans for the future, horse related or non-horse related? What horses will you be showing in 2021? Are you adding any new events?
Alexis: This year Austin and I will be building our first house, which we are very excited about! As far as shows go, I will be showing my 3-year-old, No Fooling Me. She is out of my show mare Extremely Hot Chic and by Premier Sires stallion John Simon. She was born at my parents' place and Austin started her last year. It's been a true family affair, and the most rewarding experience to get to see Austin take one I raised from her first ride to a finished show horse!
Premier: If you had one piece of advice to offer to younger equestrians, what would it be?
Alexis: I know it sounds cliche, but I would say to cherish the opportunity to get to ride and show horses. Being a nurse in a children's ICU, you encounter kids whose only wish in life is to just to be able to leave the hospital—let alone show horses. I feel so fortunate to have grown up in an environment that fostered my love for horses and, looking back on it, I wish I had appreciated it a little bit more. I had no idea how lucky I was!
If you or someone you know would like to be featured in our Exhibitor Spotlight, email us at premiersires@gmail.com.