This week's exhibitor spotlight features multiple NSBA, APHA, PtHA and ABRA World and Reserve World Champion and owner of Premier Sires stallion All Time Vandal, Allie Littlefield! Allie's success in the horse industry didn't come easily. Owning and showing horses as a youth rider without any financial support from her parents, required a lot of hard work and hustle but also made reaching the top levels of competition that much more rewarding!
Premier: When did you first start riding horses?
Allie: I was able to ride occasionally growing up with my childhood best friend who had horses and purchased my first horse at age 14.
Premier: When did you start riding competitively?
Allie: I went to a couple of 4H and Open shows when I was 15, but I couldn't really start showing until I turned 16 and was able to drive myself to the shows.
Premier: What is your favorite class to show in and why?
Allie: I have shown in the all-around events my entire life, but the hunter under saddle has always been my favorite class. I feel like the horses can be so much more natural and move forward. I've always felt more comfortable in an English saddle also, having closer contact to the horse.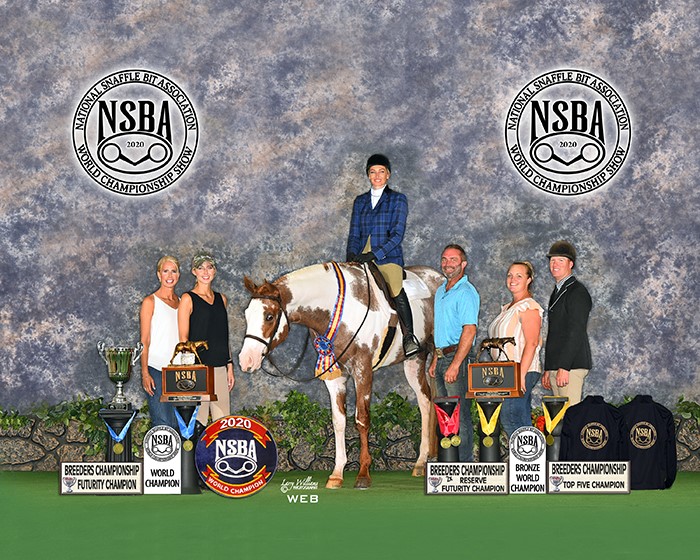 Premier: What has been your most memorable or meaningful accomplishment showing horses?
Allie: My most meaningful accomplishment was showing All Good at my first ever NSBA World Championship Show in 2018. They didn't split the Non-Pro Color Longe Line into Western and Hunter that year and everyone told me that I was nuts to take a hunter into that class, let alone a paint horse with a big bald face and a blue eye. I had no expectations to even get my name called and we were Reserve World Champions! My first big title and with a baby I had picked out as weanling from Lisa Novacek's breeding program. He went on a few days later to win the BCF Open Hunter Longe Line with Tom Williams. It really proves that you just have to show up and enter to even have a chance. All kinds of people will tell you that you can't do something. And you can't listen to them!
Premier: What are some of the challenges you have faced and the lessons you have learned showing horses?
Allie: The biggest challenge for me has always been finances. It takes a great deal of money to compete, regardless of how talented you or your horses are. Growing up without any financial support from my parents and as an adult having no financial support from a spouse, has made it very difficult to get where I wanted to get in the horse industry. I had to work multiple jobs through high school and college to show and support my hobby. I always had young horses that needed a lot of work and most of them didn't have a lot of natural talent. It took years of training one, selling it and trading up to a nicer prospect to finally start getting some nicer horses. And I have had to buy weanlings and yearlings that haven't been shown to be able to afford the purchase price. It is very rewarding when it all works out!
Premier: Other than the Congress or World Shows, what is your favorite horse show?
Allie: I really enjoyed the Tom Powers Futurity in Ocala this past December. It was my first time ever attending the show, but everyone was so kind even though I was one of only a few APHA horses at the horse show. The competition was amazing, and it was so fun to be at that insane facility amongst the best of the best in the industry.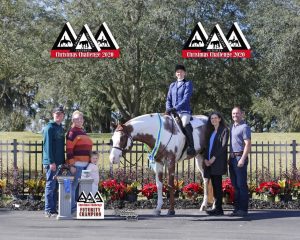 Premier: Do you have any superstitions or pre-show rituals?
Allie: My only superstition, that doesn't always amount to anything, is when I first get my back number from the show office, I look at it and get a "feeling" about the number. I like even numbers of numbers that end in 5. As far as a pre-show ritual, I like being able to get down to the show pen a few minutes earlier than I maybe should. I would rather have time to walk around on my horse and really get in a good place mentally than to be rushing around or feeling late. I love that my trainer Keith Miller allows me to take the time I need before I show. About the only thing that makes me anxious is feeling late. I don't get nervous when I show at all.
Premier: Who is your greatest inspiration or are there any equestrians that you look up to?
Allie: I of course look up to all of the great riders and trainers in our industry. Especially those who have an incredible work ethic. It doesn't take long to figure out who those people are. Those who have come from nothing and worked their way up the ladder by dedication and sacrifice. They aren't always the people winning the biggest prizes, but the people who have morals and integrity and do things the right way. These are the people that have kept up my motivation to chase my dreams in an industry where having a lot of money is considered to be a requirement.
Premier: Which trainers or mentors have had the biggest impact on your riding career?
Allie: All of the trainers I have been able to work with have had a huge impact on where I am today: Sharon Tellier, Stacey Roberson, Jessica Streit, Tom Williams, Anthony Leier, Sara Simons, Laura Spell and Keith Miller.
Premier: Who has been that special horse in your equestrian career so far and why?
Allie: I have been lucky enough to have had several very special horses in my career but Premier Sires stallion All Time Vandal is definitely my once in a lifetime horse. I purchased him as a weanling from Lisa Novacek. Graffiti has since won over $50,000 in futurity earnings which is not an easy task for a single registry APHA hunter under saddle horse. He has won over 25 NSBA, APHA and PtHA World and Reserve World Championship and Futurity titles from his yearling to 3-year-old year. Although Graffiti is a stallion and is getting ready to start his second breeding season you would never know. He is just a kind soul and so honest in the show pen. He has truly made so many of my dreams come true and more.
Premier: Do you have a career outside of the horses, and if so, what do you do?
Allie: I co-own BackRoad Trading Company with my best friend Franke Hart Sunderland. It is an online tack store, but we specialize in custom show blankets. We have dealers who sell our show blankets at all of the major horse shows. I have also been buying and selling used high end show saddles and tack for over 15 years. It started out as a way to make extra money to support my hobby showing horses but turned into a full-time business. I also manage All Time Vandal and have a small breeding operation and hope to continue showing and selling world quality hunter longe line and hunter under saddle prospects.
Premier: What type of non-horse related activities do you enjoy?
Allie: I enjoy spending time with friends and family at home, getting together to grill out, bonfires or a weekend at the lake. My 7-year-old son keeps me very busy riding four wheelers, building forts and cooking him breakfast for all three meals of the day!
Premier: What are your plans for the future, horse related or non-horse related?
Allie: My goal is to continue raising, buying, showing and selling world quality hunter longe line and hunter under saddle prospects and promoting my stallion All Time Vandal and his babies.
Premier: What horses will you be showing in 2021?
Allie: I plan to continue showing All Time Vandal after breeding season as well as my 2-year-old APHA filly Blu Skies To Sleep By. She and I had a great year in 2020 in the hunter longe line events and I am super excited to see her under saddle. I also have a couple of hunter longe line prospects to sort through. They change and grow so much it is hard to know which one will make it. Hopefully one of them!
Thanks Allie!