Written by Claire Binkowski
The inaugural Lone Star 3-Year-Old Open and Limited Open Western Pleasure Futurity was held yesterday at the Texas Festival in Waco. Seven entries competed for a total purse of $9,950.
Select exhibitors Tommie Prichard and Paula Czapko, who both fondly remember the Heart of Texas Futurity, wanted to see a lucrative Western Pleasure class return to the Lone Star State.
"It turned out better than we could have planned," said Tommie. "So many people, both exhibitors and spectators, have told us that it felt like the old days at the Heart of Texas, which always had a very laid-back atmosphere with big payouts. The Texas Festival show staff were all so helpful in making everything go smoothly and we appreciate them hosting this class at their event."
Most futurities require months of planning and preparation to be successful, but the Lone Star Futurity wasn't even an idea until about three weeks ago.

"Considering we just started working on this a few weeks ago, I'm very proud of what we were able to pull together," shares Paula. "Thanks to all our wonderful sponsors, we were able to pay out nearly $10,000. We've already started talking to sponsors about next year and hope to see this class continue to grow."
Michael Hunsinger was one of the exhibitors who competed in this year's event. He showed The Best Ride (VS Goodride x Wish Me The Best) for owner Diane Tuytens to win the Limited division and a check for $2,250.
"It was very exciting and refreshing to have a 3-Year-Old class like this here in Waco," says Michael. "The stands were packed and every horse in the class was great. The entire horse show stopped for this class which made it feel even more special. We bought the mare I showed from Angie Cannizzaro about a month ago and she brought her to the show and prepared her. Angie and the entire CAC team did a great job with her and made my job easy. It was a lot of fun to be back in the pleasure pen on a nice futurity horse. We will be taking 'Roni' home from here and are excited to start her all-around career."

Encouraged by the overwhelmingly positive feedback about this year's event, Tommie and Paula are already looking ahead to next year. For more information about the Lone Star Futurity and how you can get involved, please contact Tommie Prichard at 972-333-0885 or Paula Czapko at at 214-212-0321.

The Lone Star Futurity 3-Year-Old Open Western Pleasure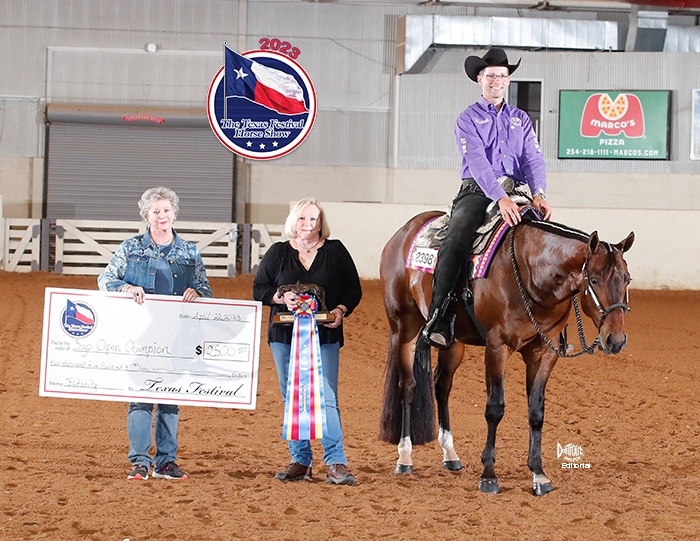 Champion – $2,500
The Way I Talk
(VS Goodride x Roses Hot Ticket)
Bred by Allison Chappell, owned by Alicia Ritsema and shown by Aaron Moses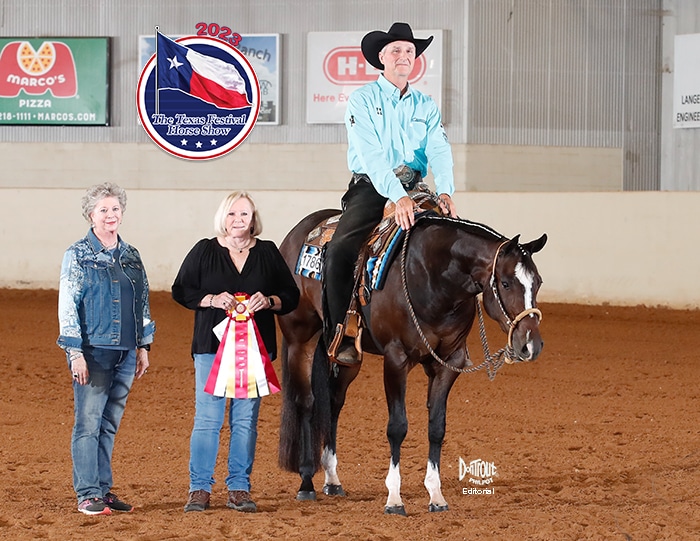 Reserve Champion – $1,500
J Loww

Bred by Cory Seebach & Candice Hall, owned by Gil & Becky Galyean and shown by Gil Galyean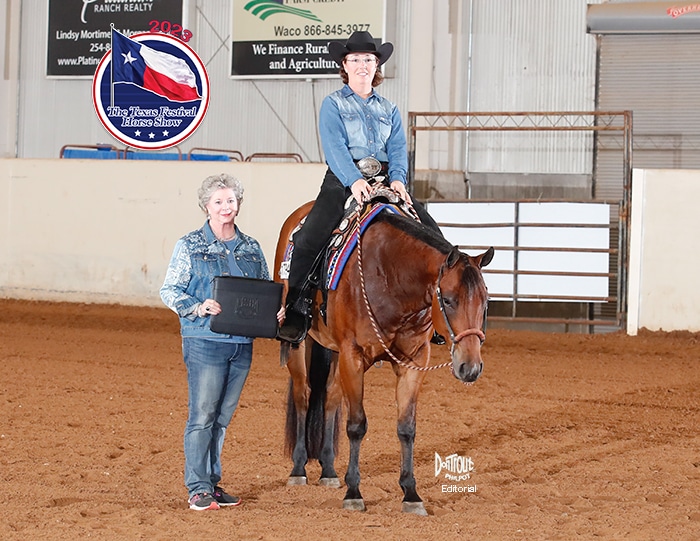 Third Place – $1,000
Lopin Schmancy
(The Lopin Machine x Im Fancy Schmancy)
Bred and owned by Jeri Kay Lockwood and shown by Angie Cannizzaro

The Lone Star Futurity 3-Year-Old Limited Open Western Pleasure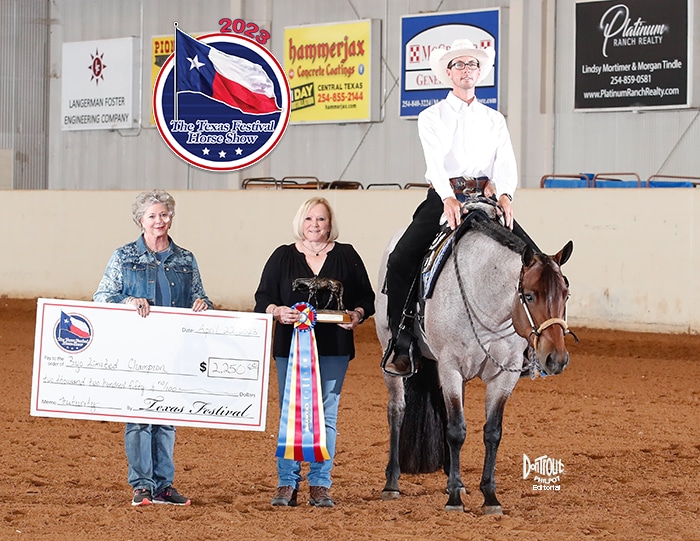 Champion – $2,250
The Best Ride
(VS Goodride x Wish Me The Best)
Bred by Faren Anderson, owned by Diane Tuytens and shown by Michael Hunsinger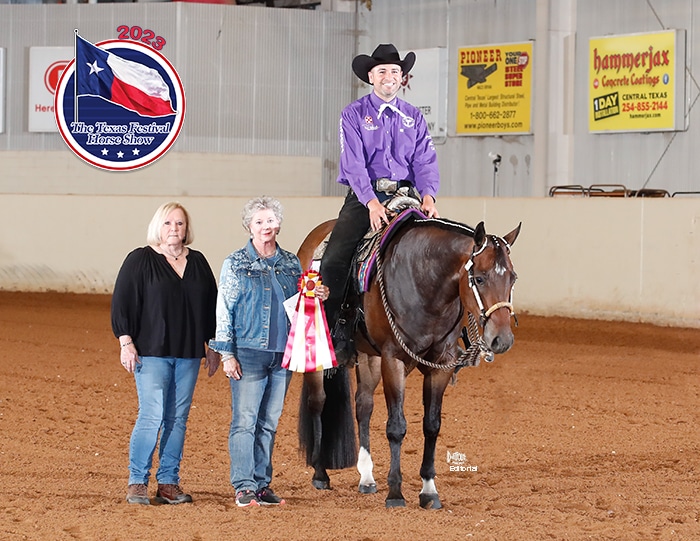 Reserve Champion – $1,000
Martini Time
(The Best Martini x An Hour In Time)
Bred by Patricia Yates, owned by Jordan Davis and shown by Anthony Montes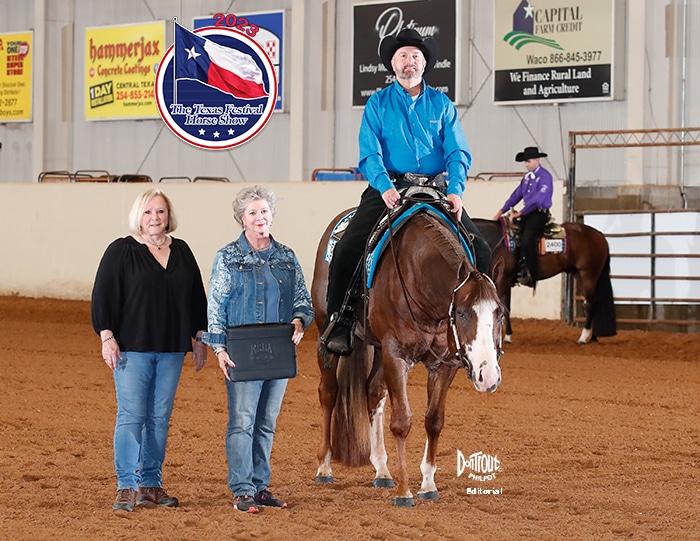 Third Place- $650
VS Man Code
(VS Code Blue x Sudden Splashed)
Bred by Tori Gillespie, owned by Superior Care Management LLC and shown by Kevin George