Written by Claire Binkowski
Iron Lion Zion, a 2019 stallion sired by Hubba Hubba Huntin out of These Irons R Ready, has been making a name for himself ever since he made his debut last year. With a proven show record, impeccable pedigree, and great mind, Zion has all the right pieces to be an exceptional sire. And that's just what new owners, Matt and Kayla Budine, are planning for.
Iron Lion Zion was bred by Richard and Betty Jo Carr and began his show career with Judy Zeitler in the irons. Together they earned a Reserve Championship in the 2-Year-Old Open Hunter Under Saddle at the 2021 All American Quarter Horse Congress and won the 3-Year-Old Open Hunter Under Saddle at the Fun In The Sun Futurity in Venice, Florida the following January.
Stacy Huls recalls watching Judy and Zion show and being impressed by how big and strong he was even as a two-year-old. "He had so much size and body and was just so strong that he really stood out as a two-year-old. On top of that he was just so pretty and such a good mover that he really caught my eye."
Stacy continued to watch Zion through the first part of his three-year-old year and when her customers Matt and Kayla Budine began looking for a new horse, Zion quickly became the obvious choice.
"Kayla has a couple of hunter under saddle horses that she has had quite a bit of success with, but we've shown them a lot over the last few years and it's time for them to get a little break," said Stacy. "We bought Zion to be Kayla's amateur horse. She'll show him in the Amateur and Non-Pro events next year and the plan is to stand him after that."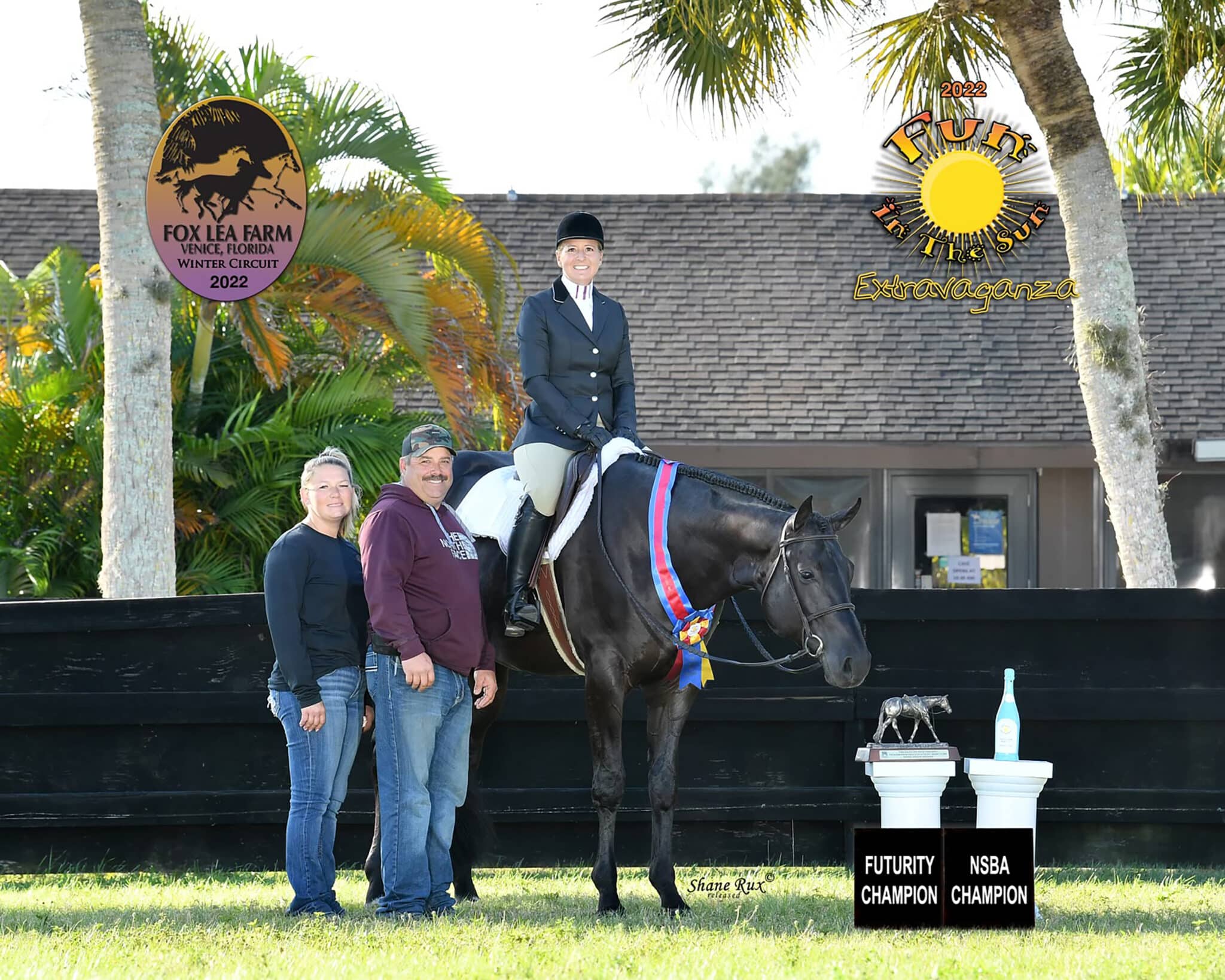 Matt and Kayla finalized the purchase of Zion at the NSBA World Show. A few days later Stacy showed him in the 3-Year-Old Limited Open Hunter Under Saddle, placing third. They are currently in Oklahoma City preparing to compete at in the 3-Year-Old Hunter Under Saddle Stakes and Junior Hunter Under Saddle at the AQHA World Championship Show.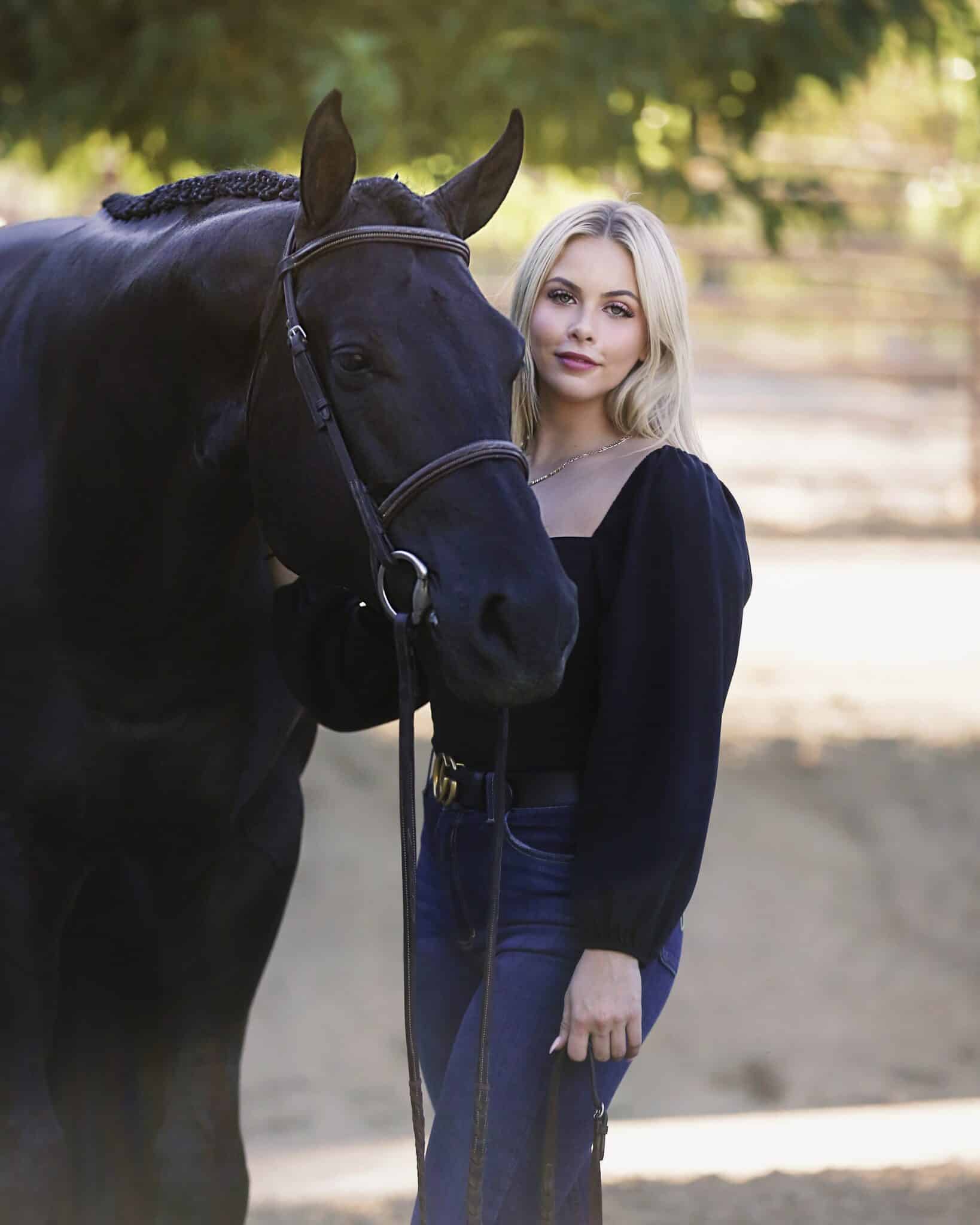 "He always shows even better than he warms up," said Stacy. "He's just a fun horse to ride and I'm looking forward to getting Kayla on him next year. I think they are going to make a great team and she's going to have a lot of fun with him."
Kayla can't wait to get in the saddle. "I'm so happy that my dad and I were able to purchase Zion this year. He is such a beautiful, natural mover and it's always exciting when you get to show a horse with so much talent. I'm so thankful to my dad for always being supportive of my dreams and giving me the opportunity to ride a horse like Zion."
If there is any doubt that Iron Lion Zion was bred to be both a show horse and sire, just look at the maternal side of his pedigree.
Zion's maternal grandam, Ready To Dance, was the 1996 AQHA High Point Hunter Under Saddle Champion and earned 101 AQHA Open Hunter Under Saddle points during her show career. But her produce record is even more impressive. She has eleven foals, ten of whom are performers earning a combined 1,962 AQHA points and over $91,500 in NSBA earnings. Her most notable progeny include AQHA World Champion Dont Ya Wanna Dance, Congress Champion and AQHA Reserve World Champion These Irons R Dancin, and Zion's dam, Reserve Congress Champion These Irons R Ready. Zion is her first foal. 
"There have been so many great show horses and producers that have come from Ready To Dance," said Kayla. "These Irons R Dancin is a full sister to Zion's dam, These Irons R Ready, and she has produced horses like Hubbout A Dance and Heza Dancin Hubba. His maternal line is just incredible, and we all know how much that plays a part in breeding."
Stacey shares Kayla's sentiments. "Whether I'm breeding or buying a young prospect, the maternal line is as much or more important to me than the sire. Zion's granddam has an incredible produce record and if Zion is any indication, These Irons R Ready is going to carry on that legacy as a great producer. I think his maternal line is something that is really going to appeal to breeders when the time comes to stand him."
Father and daughter duo, Matt and Kayla Budine, have owned a number of successful hunter under saddle horses, including Vinn Diesel, who Kayla showed to win the Level 2 Amateur Hunter Under Saddle at the 2020 AQHA World Championship Show as well as the BCF 4-6 Year Old Hunter Under Saddle the same year, and Made In The South, who she showed to a Reserve Championship in the Level 2 Amateur Hunter Under Saddle at the AQHA World Show in 2021, but Zion is their first stallion.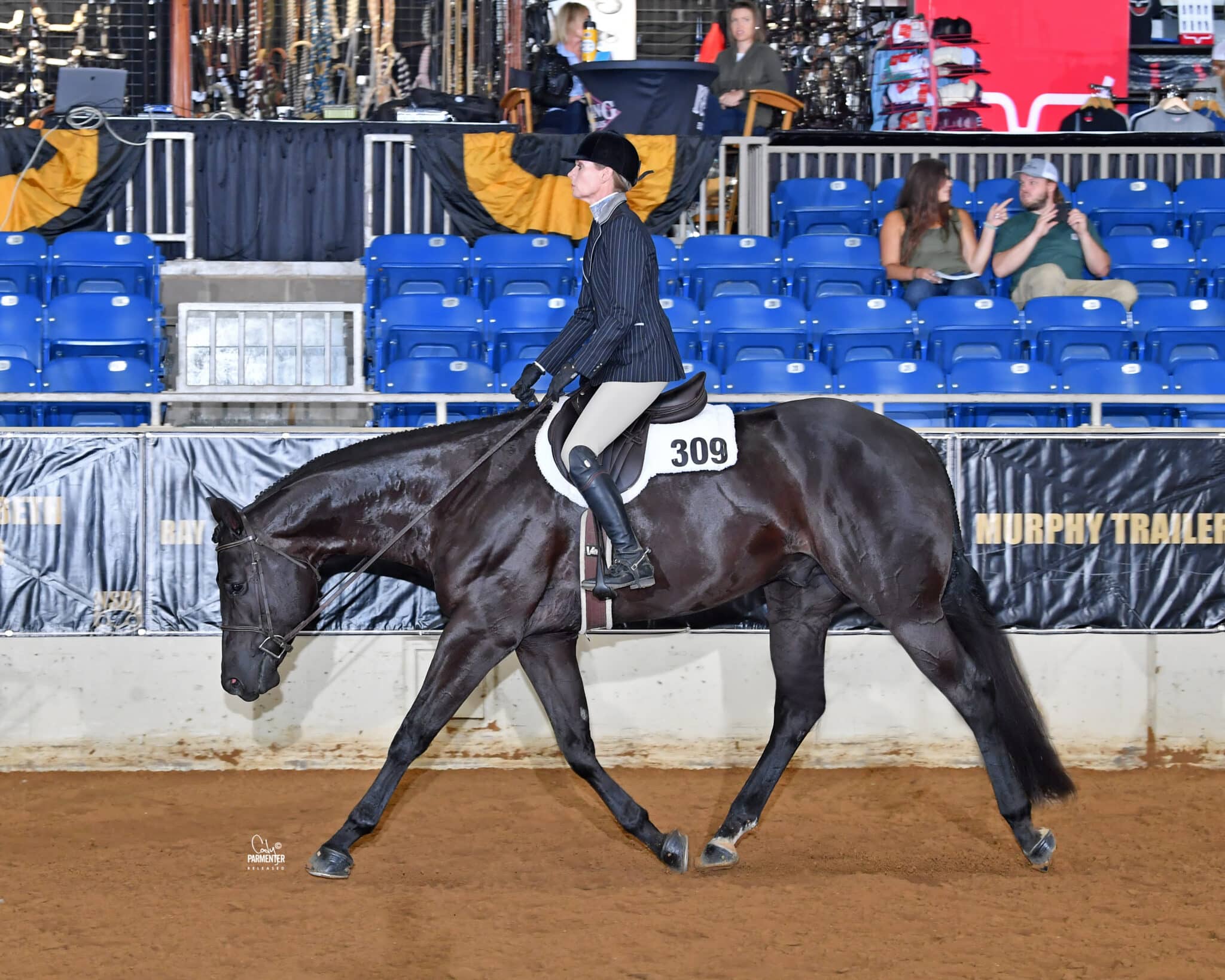 "Buying a stallion was not something we had planned on," said Kayla. "But buying Zion was an opportunity that we couldn't pass up. We have a lot to learn about the breeding side of the industry, but we are fortunate to have many experienced friends and mentors to learn from, especially our trainer Stacy. Both my dad and I are so grateful for all that she does for us and Zion."
And that gratitude goes both ways.
"I really enjoy riding horses for Matt and Kayla, especially Zion," said Stacey. "I think he's got a very bright future ahead. He's good minded, he's pretty, he's a good mover, he's got size and is structurally correct, and he's got great bloodlines. He checks all of the boxes that you look for in a stallion."