Written by Stephanie Kallenberger for Premier Sires.
The Cook Family is no stranger to the horse industry. The family's patriarch, JR Cook, is a World and Congress Champion. Oldest daughter, Georgia, is an APHA and NSBA World Champion and Reserve Congress Champion. Middle daughter, Isabella, is an APHA Reserve World Champion and has placed Top Ten at the NSBA World Championship Show. Youngest daughter, Elizabeth, is just beginning her show career in the Leadline. And now, after years of selflessly supporting her family as a horse show wife and mother, multiple World Champion Melissa Cook is returning to the show arena with her 3-year-old gelding, Flo Rida.
The quintessential horse show wife and mother, Melissa has spent the past several years supporting her husband and daughters in the show arena. However, what many may not know is that Melissa is an accomplished equestrian who spent decades riding, breeding, and showing.
"I have been riding horses since I was a little girl," said Melissa. "My Dad bought a deer ranch that had a couple horses on it. He had this idea of my sister and I riding them across the pasture, so we started taking riding lessons. Shortly after we started showing at local open shows, and by the time I was eight, I was showing on the Paint Horse circuit."
Melissa's success in APHA competition included Youth World and Reserve World Championships in Horsemanship and Western Pleasure, as well as multiple Honor Roll titles. As an Amateur she won World Championships with Christianonimpulse, Shining Impulse and Make Me Shine, who her family also later stood at stud.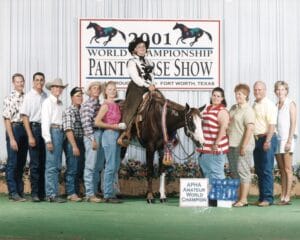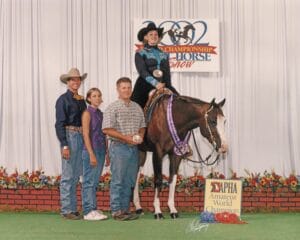 Horses were such an integral part of Melissa's life that it was at a horse show where she first met her future husband, JR.
"JR and I met at the Just For Pleasure Futurity in Perry, Georgia in 2003," said Melissa. "JR was there showing Halter horses for his grandfather, and I was there showing my pleasure horses. We went out on a date at the next show and were married three years later."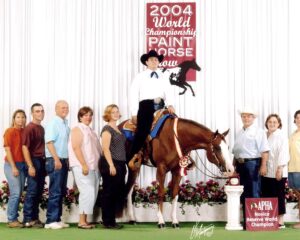 Prior to meeting Melissa, JR had ridden Cutting horses—he is a Reserve World Champion and NCHA Youth Hall of Famer—and shown Halter horses, but it was Melissa who introduced him to Western Pleasure.
"I had two horses that year for the World Show," said Melissa. "I couldn't show both, so I convinced JR to show one. We only had about four weeks to teach him how to ride a Western Pleasure horse. He would fly in on the weekends to practice. I guess it paid off because he ended up winning the Reserve World Championship in Novice Amateur Western Pleasure that year."
In 2008, life began to lead JR and Melissa away from the horses.
"At the same time we were beginning to think about starting a family, my dad became ill and was no longer able to run our family business on his own," said Melissa. "JR and I stepped in to help until he passed away in 2010. That was a really hard time for our family."
Not long after her father's passing, Melissa and JR decided to start their own business, Allstate Signal & Construction, a heavy highway electrical construction company based out of Cypress, Texas. While in the early years of building their business, they also became new parents.
"Our first daughter, Georgia, was born in 2011," said Melissa. "Two years later Isabella arrived, and then finally, Elizabeth. Starting a family and trying to grow a business made it impossible to even think about horses."
As their daughters began to grow up, it became very apparent that Georgia had inherited her parents' love for horses. It was her passion that prompted the family's return to the show arena. Shortly after his oldest daughter began showing, JR followed suit.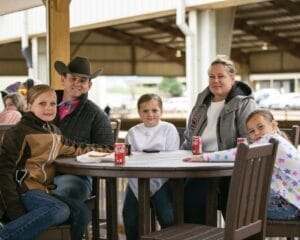 "I started showing hoping to help Georgia and work with her horse in the ring," said JR. "It took off from there and spread through the family. After Georgia and me, Bella started, then Elizabeth, and now finally Melissa."
Although Melissa wanted to return to the show arena, JR knew that his wife would never look at or buy a horse for herself. "Melissa is the most unselfish person. She always puts me and the girls first. This was something that I really wanted to do for her, so Cole and I made it our mission to find her the perfect horse."
After looking for more than a year, in December the Cook's long-time trainers, Cole and Liz Baker, were at a show in Tampa when they first saw Flo Rida. The 2019 sorrel gelding, who is sired by No Doubt Im Lazy and out of Why Not Invite Me, was in training with Chris and Shannon Holbin at the time. It only took one ride on "Buggs" for Melissa to fall in love with him.
"Buggs has such natural athletic ability," said JR. "You see those horses that lope around making it look easy, well he is one of those horses. His size and eye appeal really make him the complete package. He has tons of ring presence and a personality that has quickly made him one of our family's favorites."
"I don't know why he is named Buggs," the Cook's middle daughter, eight-year-old Isabella shared. "He isn't anything like a bug. His name should be Prince Handsome."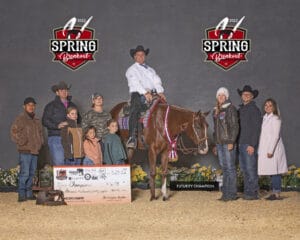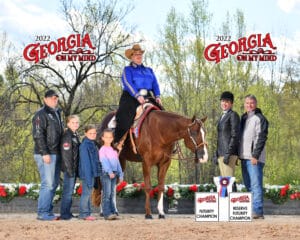 Bred by Kenneth & Lisa Elam, Flo Rida is making his name known this year, showing in 3-Year-Old Open and Non-Pro, Limited and Novice Horse and Amateur Western Pleasure events. Already this year, Cole and Flo Rida have been Champions in the 3-Year-Old Open Western Pleasure at the Fun In The Sun, unanimous Champions in the 3 & Over Novice Horse Western Pleasure at The Virginia Maiden, Reserve Champions in the 3-Year-Old Open Western Pleasure at Georgia On My Mind and Champions in the 3 & Over Novice Horse Western Pleasure at the A Sudden Impulse Futurity. Melissa and Buggs have shared their own success in the arena as 3-Year-Old Limited Non-Pro Western Pleasure Champions and 3-Year-Old Non-Pro Western Pleasure Reserve Champions at Georgia On My Mind.
"Buggs is such a talented horse and keeps giving us more and more every time out," said JR. "We are very pleased with all he has accomplished so far. He and Melissa become a better team with every ride."
When Melissa was younger, she would get sick before a show because she was so nervous. Now she is much more relaxed and just enjoying the horses with her family. "I've learned that the people who are going to be happy for me will be, and the others don't matter. I just want to have fun, improve my abilities and do the best I can," she shared.
While Melissa is focused on improving inside the arena, JR is learning to take on the role of horse show husband. To help stay calm while his wife is in the show pen, he often finds himself pacing. "It's hard for me when it comes to my wife and kids. I just want them to do well."
"Dad gets grumpy when Mom shows," added Isabella. "He says he is in the zone."
Melissa and Flo Rida have a full show schedule planned for 2022 which includes The Premier, Big A, NSBA World Championship Show, All-American Quarter Horse Congress and AQHA World Championship Show. 
"I'm excited to get back out there and show more," said Melissa. "I of course love to win, but there is a lot more to horse showing than just the showing. You need the perfect picture. After being away from the pen for so long I need to reestablish myself and my style." 
As part of her return to the show pen, Melissa is learning to balance her roles as both a horse show mom and competitor. For Melissa, family is everything and since becoming a mother, her priority has been to support her girls as they chase their dreams and fulfill their goals. She also knows that it is just as important for her daughters to see her chase her own dreams.
"I worry that the girls will need me, and I won't be there," said Melissa. "I have only shown with them at a few shows so far, but I have found that if I get everything done early, I don't have to stress so much about getting the girls ready. My hope is that my experience will set an example for my girls."
With all five members of the Cook family now showing, having a great support system is essential. JR and Melissa are grateful for the help and guidance of their trainers Cole and Liz Baker.
"They are very fair and honest," said JR. "They work hard to do a good job and are just good people. They are also very good with kids. Cole and Liz have done so much not only for our horses, but also for our family."
"I can't thank Cole, Liz and the Baker team enough for their patience, hard work and support in preparing me and Buggs for the show ring," said Melissa. "I didn't realize how much I missed showing. JR and my girls are so excited for me and it's a lot of fun to all be showing together."
"I think she is going to do great," said Georgia, the Cook's oldest daughter.
"I'm happy to see Mom show," chimed in Isabella. "I like to watch her."
Elizabeth, the youngest Cook daughter, is just as excited. "I'm happy for my mom to start showing again and for us to all show together."
JR couldn't be prouder of his wife. "To say I am proud of Melissa is an understatement. She has put her own dreams on the back burner for so many years to start a family and build a business with me. She has watched and cheered for Georgia, Bella, and me for the last few years. Now it's her turn. Riding and showing horses was something she loved to do when we first met and it's something that I really wanted to share with her. I don't want to do this without her. I'm so excited for Melissa and I know that together she and Buggs will do great things."
"This is an exciting new chapter," said Melissa. "I am blessed to be doing something I love with the people I love and such a special horse. I'm just enjoying the ride."