Written by Claire Binkowski.
Most know multiple Congress Champion Alexandra Rippeon as a tenacious and determined competitor who is focused on accomplishing big dreams inside of the show arena. To her friends and family, Allie is a tender-hearted, spunky, thirteen-year-old who fiercely loves her horses and connects with them on a deeper level.
A LOVE FROM THE BEGINNING
Allie has loved horses for as long as she can remember. A close family friend introduced Allie and her older sister, Maddie, to horses and it was clear from the very first ride that both girls had found their passion.
"I've loved riding from the first time I ever had the opportunity to sit on a horse," said Allie. "Of course, at that time I never imagined where it would take me."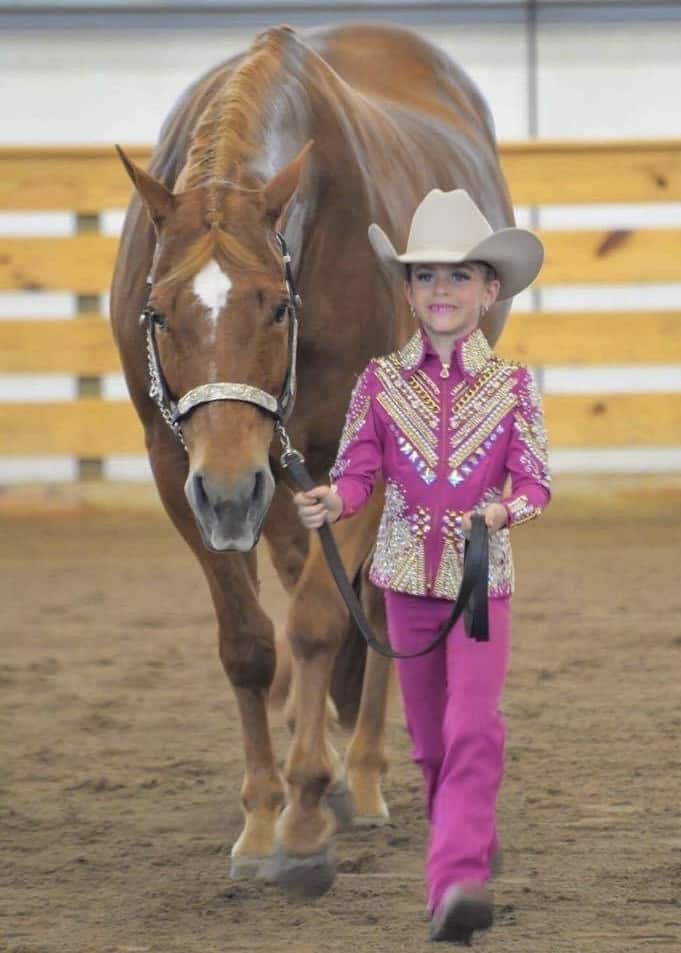 Allie's show career began when she was just four years old in Leadline classes with her first horse, The Terms Are Sonny. Allie's mother, Deanna, fondly remembers Allie jogging 'Sonny' on the rail in the arena pretending to show. Even then she did her best to capture the attention of those watching. It wasn't long before Allie graduated to the Walk-Trot classes. Sonny did everything and he did it all well. He taught Allie a lot about riding and showing before enjoying a well-earned retirement at the Rippeon's farm in Maryland.
Determined to help Allie accomplish her goals for her last year in Walk-Trot, the Rippeons purchased Famous N Foolish from Shannon Walker and Hannah Lind. Allie and Calvin won the Small-Fry All-Around at every show they went to that year. Together they won NSBA World Championships in the Small-Fry Horsemanship, Showmanship and Equitation. Allie concluded her Walk-Trot career winning a Congress Championship in the Small-Fry Showmanship and being named the Small-Fry Reserve High Point Champion.
"Calvin was a phenomenal horse," said Deanna. "The year we showed Calvin, both Allie and her sister, Maddie, won Congress Championships in the Showmanship with him. Those were moments that our family will cherish forever. We are so happy that he now belongs to the Cook family. He's the perfect horse for their three daughters and we have so much fun cheering them on."
COURAGE IN THE FACE OF ADVERSITY
With her Walk-Trot career coming to an end, the Rippeons began searching for a horse that Allie could be competitive on in the Novice Youth events. Eventually they found and purchased Play On. Although the mare had only been shown in Western Pleasure and Western Riding, within a matter of weeks, Allie and "Roxy" made their horsemanship debut, placing first under several judges. However, what looked to be the beginning of a great partnership, quickly turned to tragedy.
Shortly after purchasing Roxy, a freak incident sidelined her from the show arena. Eventually the Rippeons decided to bring Roxy home to Maryland to continue their efforts to rehab her. While Roxy was at home, Allie assumed nearly all responsibility for her care. During that time, she and Roxy developed a special bond. They would even share Twizzler's, each eating from one end, much like the spaghetti scene in "Lady and The Tramp."
"She was a one-person horse, and Allie was her person." said Deanna. "She had so much heart, and so much love for 'her kid,' that I don't think we really knew how much pain she was in for a long time."
"Roxy and I had a bond that she didn't have with anyone else," said Allie. "She liked everyone, but I was her favorite. She was the sweetest horse and I loved her so much."
Despite everyone's best efforts, Roxy's condition deteriorated until the most humane thing to do was end her suffering. It was eleven-year-old Allie who recognized the mare's pain and told her mom that she thought it was time.
"When I answered the phone, I heard silence followed by a deep sigh and then Allie said, 'Mom, I think it's time,'" shared Deanna. "I'm so proud of how Allie handled that situation. She could have easily been disappointed about not being able to show, but she kept a great attitude and put the well-being of her horse first. She took the lead in caring for Roxy and even now, more than a year later, it's still hard for her to talk about. For her to recognize that Roxy was suffering and be the one to call and tell me that we needed to call the vet, and then be there as she took her last breath showed a maturity beyond her years. It was really hard on her, but I know she is a better rider, competitor, and friend because she went through that."
After losing Roxy, the Rippeons began searching for a new horse for Allie. Deanna was afraid that it would be hard to replace the bond that Allie had with Roxy, but that all changed when they found ItzOnlyMakeBelieve.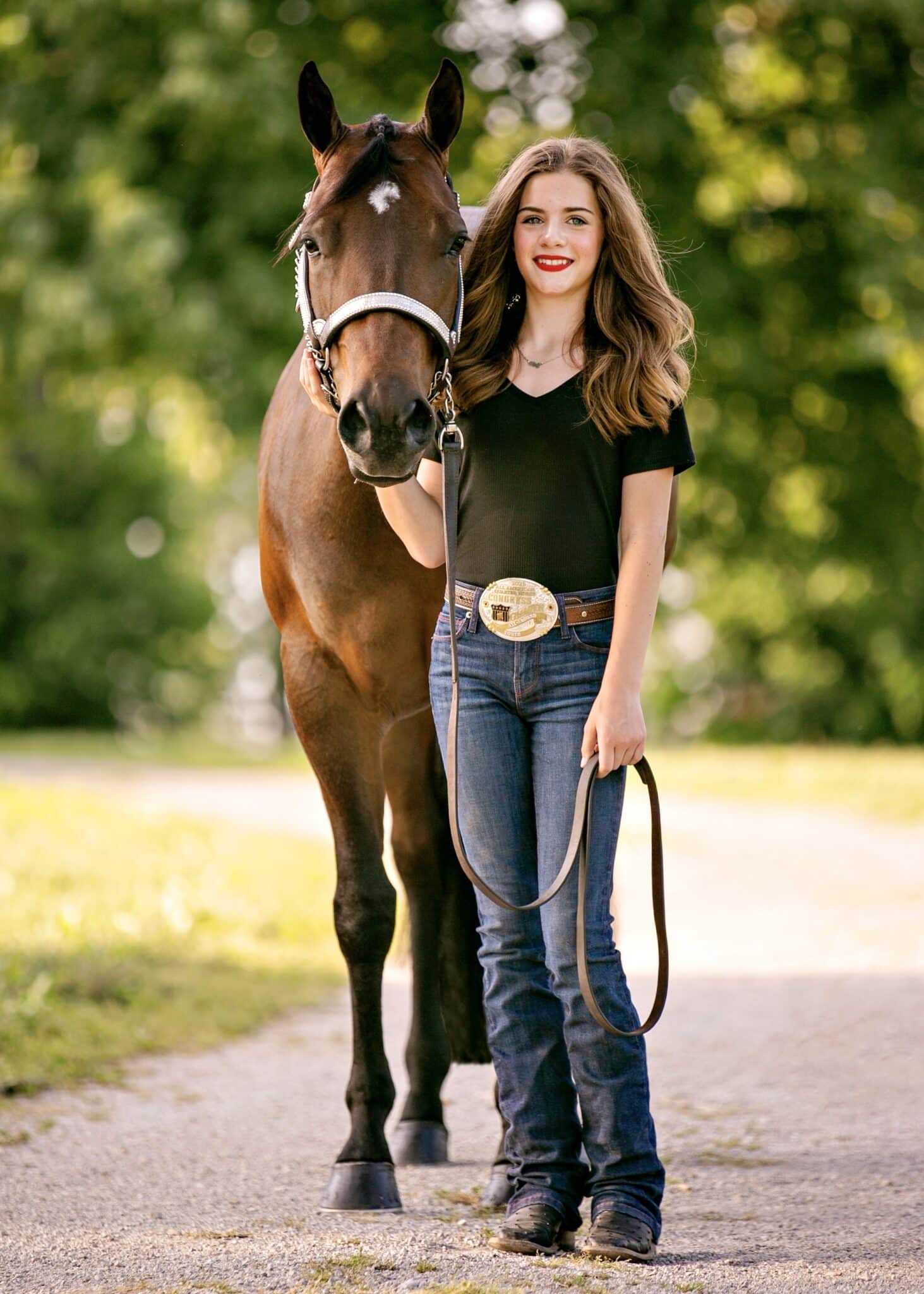 "The first time I rode 'Molly' she was just phenomenal," said Allie. "Before getting on I introduced myself to her. Teresa Balkcum, who we bought Molly from, laughed and said she had never seen anyone introduce themself to a horse before. I told her I thought it was kind of weird to get on a horse that doesn't know me!"
From that very first introduction, Allie and Molly have proven to be a formidable team. At their very first show together they won the Novice Youth Trail and Western Pleasure. Because the qualifying period for the Youth World had already ended, the team's first major event was the NSBA World Championship Show. There they won the bronze trophy in the Youth 13 & Under Horsemanship and placed Top Ten in both the Novice Youth and Youth 13 & Under Western Pleasure.
They continued to build momentum at the WEC Championship Show in Ocala, winning the Youth 11 & under Equitation and Novice Youth Western Pleasure and placing Reserve in the Youth 11 & Under Horsemanship and Western Pleasure. They finished the show as the Novice Youth High Point Champions.
By the time they got to the All-American Quarter Horse Congress, Allie and Molly were on fire. By the time they finished their last class, they had won four Congress Championships and one Reserve Championship.
"It was crazy," said Allie. "I couldn't believe it. When I won my first Congress championship it was incredible, but then to win three more times was just crazy. My whole family was there, and they were all so supportive."
Part of what makes showing horses so special for Allie, is being able to share her passion with her older sister, Madeline. Only a year apart in age, the two sisters both started riding and showing at the same time. Over the years, that has also meant competing against one another.
"There is definitely more competition when your sister is in the ring with you," said Allie. "In Ocala last year Maddie beat me in the Horsemanship, which is one of my best classes, and she was so happy. Then I was Reserve to her in the Equitation, and she still talks about that to this day."
"When they were in the same division, there were times they would be in the show arena together and I didn't know which way to look," laughed Deanna. "Having one daughter focus on English events and the other on Western events worked out well up until recently. We just sold Maddie's hunter under saddle horse, Fashion Statemant, and now she will be focusing on the Western events with her new horse. At least for this year they will be in different age divisions."
Although Allie and Maddie are both fiercely competitive and want to win, they are also extremely supportive of one another and quick to step up and help each other, whether that is caring for their horses or offering a word of encouragement.
"Maddie was a crucial part of Allie's success at the Congress last year," said Deanna. "She was a great buffer between Allie and I and helped keep Allie from getting nervous. She was very supportive of her sister and I'm so proud of her for that. There is nothing like that sister bond."
In just a few weeks, Allie and Molly will head to Oklahoma City for the AQHA Youth World Championship Show where they will be competing in Youth 13 & Under All-Around events. Following the Youth World, they will show at the NSBA World Championship Show.
"It's my very first Youth World so I'm pretty pumped," said Allie. "I'm looking forward to hanging out my friends that I don't get to see except for a few times a year. I would love to get a globe and hope to do well in the all-around. To do that my plan is to just focus on one class at a time and try to have the best rides that I can."
Deanna hopes that all her daughter's hard work and dedication allows her to achieve her dreams in the show arena, but even more importantly, she just wants Allie to have fun.
"We know that it takes a village to achieve success in the show arena," said Deanna. "We are very grateful to all who have played a part in preparing Allie, especially our trainers, Shannon Walker and Hannah Lind, as well as Keith Miller who helped us find Molly. It is because of the efforts of each member of our team that Allie has been able to accomplish all that she has. I can't wait to watch her compete at her first World Show and my hope is that she enjoys every minute of the ride."