As of May 1st, Leann Rhodes of Centerpoint, Indiana is the proud new owner of D Designs.
D Designs, which was started in 2004 by Tammy Dyer, is well-known for their stunning one-of-a-kind shirts and jackets. The D Designs booth has become a staple at most of the major shows and futurities across the country.
"I started the company after realizing there was a need for people to be able to buy custom show clothing on an 'as need' basis," said Tammy. "Whether that was one jacket or several different outfits. That evolved into offering a selection of ready-made pieces that could be easily tailored to give someone a custom fit. Whether it is completely custom or 'off-the-rack,' no two pieces we make are alike."
Through her attention to detail and commitment to customer service, Tammy built D Designs into one of the most recognizable and coveted show clothing brands in the industry. Up until recently, she had no plans of selling her business.
"When I lost my dad two years ago my entire life changed," said Tammy. "My priorities shifted to taking care of my mom. Then my daughter, Sharnai, got engaged and now she and her husband, Ric, are having a baby in August. My whole world right now is about my family. That's where I need to be."
Although she is looking forward to having more time at home with her family, Tammy still describes the sale as "bittersweet."
"I built this business from the ground up, and that's hard to let go of," she said. "It was a labor of love which is why it was so important to me that someone who has the time, attention, and love for my business, continue forward with it. Leann has been travelling with me for years. She knows the business and the people, and she's got the passion for it. It's a great complement to the saddle pad business [Show N Tell Saddle Blankets] she shares with her daughter Loni. I know she'll do a great job with it."
Leann is already very familiar with D Designs and has been working closely with Tammy for the past several years.
"I've been traveling with Tammy since 2017, sharing a booth while she sold the clothes and I sold saddle blankets," said Leann. "We both helped each other quite a bit during that time. Over the years, I learned more about D Designs and the show clothing industry, so I feel very confident taking over the business. I really enjoy seeing how a beautiful, well-fitting outfit can give a woman confidence in the show pen."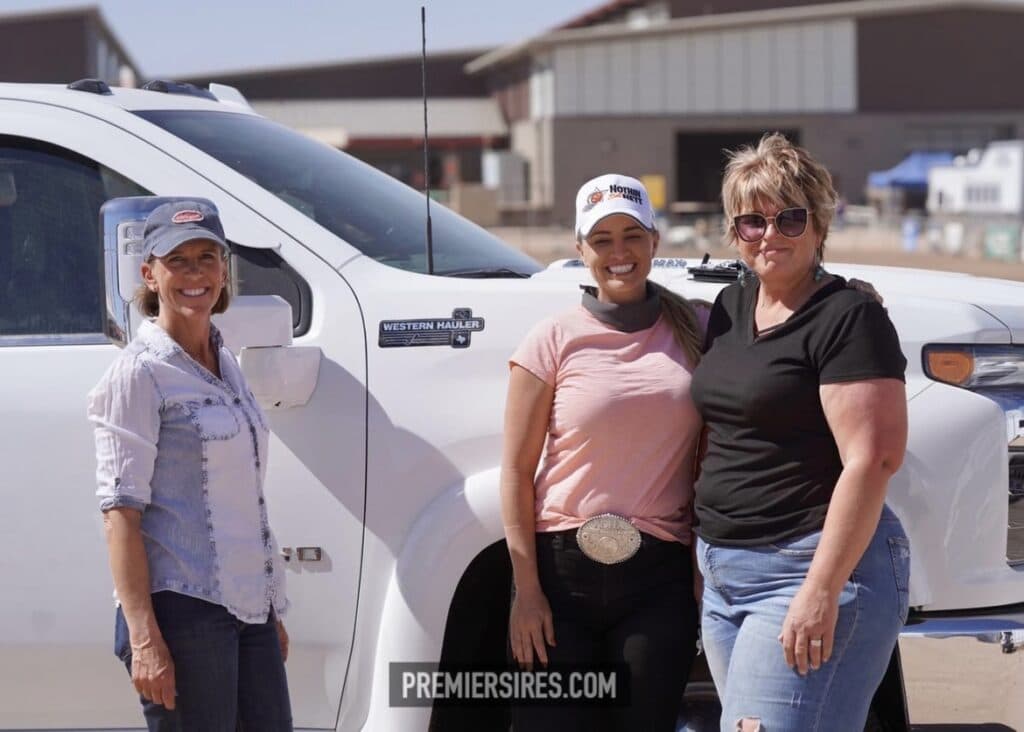 Aside from being under new ownership, customers can expect "business as usual." The business will continue to run as D Designs with the same dedicated and experienced seamstresses producing the clothes. While continuing to attend the same shows they have in the past, Leann is also looking forward to expanding D Design's product line and branching out into new industries and disciplines.
"I love what I do and enjoy traveling to the shows," said Leann. "I've made a lot of friends in this industry many of whom I consider to be family. I'm looking forward to making new friends and growing the business. Tammy and I have had a business relationship over the last five years, and a friendship for much longer than that. I wish her the best in her next chapter with her family and soon-to-be grandbaby."
Although Tammy has sold D Designs, she wants to assure everyone that she is not leaving the horse industry behind all together.
"I'm definitely not going away," said Tammy. "We plan on remaining a big part of the horse show industry. Once Sharnai's maternity leave is over, she'll be back at the shows working as a veterinarian, so you can bet I'll be there pushing the stroller!"